CROWN SOLAR BATTERIES–Renewable Energy & Industrial
   
 CROWN 6CRV390-L16AMG-BCI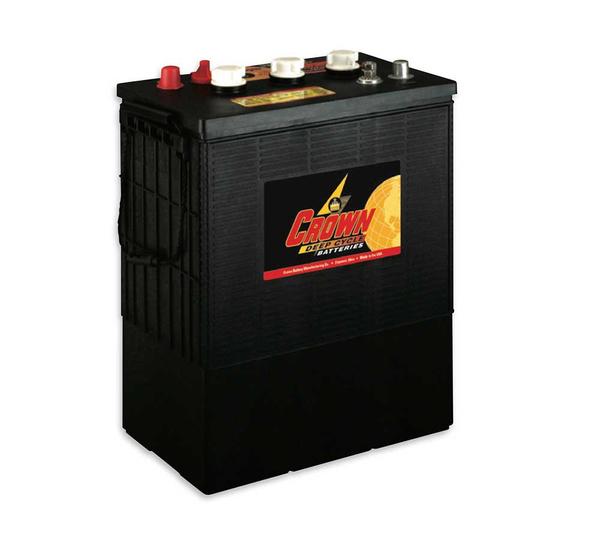 CROWN 6CRV390
| | |
| --- | --- |
| BCI Group Size | 903 |
| Voltage | 6V |
| A/H @ 20HR Rate | 390 |
| Type | AGM |
| Length | 11.62″ |
| Width | 7.01″ |
| Height (Top of Case) | 15.91″ |
| Height (Top of Terminal) | 16.75″ |
| Weight | 127 lbs |
Beyond a broad product array. Beyond a long history of delivering power to customers throughout the world. Crown Battery's design principle is even more important to our customer's philosophy. We call it real value. It's a rare commodity in a world of choices for energy storage and one where you receive more than what you pay for. And, with CROWN1,  you'll find our AGM Deep Cycle Batteries deliver one of the highest value propositions in the global energy storage marketplace because value is what sets us apart.
As with all of Crown Deep Cycle batteries, you receive a thick plate, properly pasted. Therefore, the end result is a thick grid with more lead and uniform wire thickness. Thus, it holds and retains more active material for longer life and durability. But, with the Crown1 AGM battery and the Crown 6CRV390, there are several advantages:
No Watering
No Gassing
No Maintenance
Crown1's sealed and certified non-spillable AGM design eliminates the need for watering service. The inset plate lug delivers longer discharge times therefore increasing tolerance for deep cycle service and improved recharging performance. The ultra-strength glass mat separator utilizes advanced composites to absorb and distribute electrolyte and therefore, enables superior recovery from deep discharge cycling and high efficiency charging service. Choose the Crown 6CRV390 for off-grid systems to ensure durability and long life, because you rely on your system!
AMRtechnologies Solar & Electrical Systems
Tel: (+506) 2438-3246 or (+506) 2438-3272
Toll Free: 1(800) 2130227
Solar Systems in United States & Latin America