MAGNUM ENERGY-DIMENSIONS-MM1512AE 1,500W 12V Inverter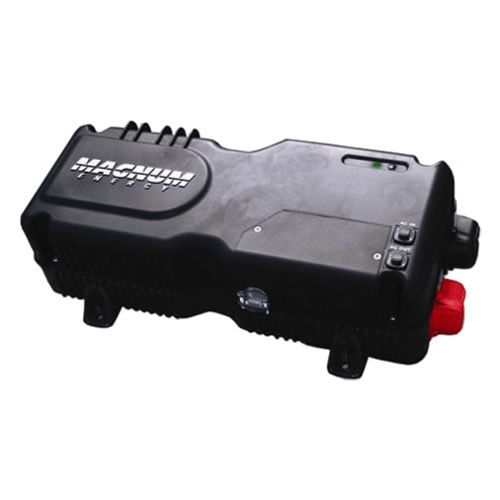 MAGNUM ENERGY-DIMENSIONS-Magnum Energy MM1512AE 1,500W 12V Inverter
The MM-AE Series Inverter / charger is a modified sine wave inverter providing a cost effective solution for those with smaller power needs in renewable energy applications. Versatile, easy-to-use, and lightweight, the MM-AE Series provides a reliable base for your energy system.
Description
The Magnum MM 1512 AE 1500-watt off-grid is the replacement for the MM1212 AE. This modified-sinewave inverter is a part of the MM Series from Magnum Energy, a new kind of inverter designed to accommodate entertainment systems and small appliances in smaller RVs and cabins. And, what's more, it's affordable.  
The MM series inverters are a smaller, lighter and less expensive version of the popular ME and MS Series inverters. They still have all of the built in protection and reliability of ME and MS models. The MM models with chargers use a PFC (Power Factor Corrected) charger, which is 85% efficient; the same charger topology used in all Magnum models. The Magnum MM Series is ETL Listed to the strict requirements of UL/cUL 458. Call AMRtechnologies at 1-800-213-02271142.
Additional Features
Standard transfer relay: The standard 20 amp transfer relay will pass AC power through
the inverter when using grid or generator power.
Mountable on a shelf, wall, or even upside down.
Enabling the unit to work well in confined spaces.
Automatic shutdown protection feature if the inverter does exceed its temperature limits, it will automatically shut down and restart when it is cooler.
Low & high battery protection if your battery voltage goes below or above the cut-out setting, this inverter will automatically shut down, saving your batteries.
Cost effective solution for smaller power needs.
Current overload protection automatically shut down if its output wattage is exceeded or it detects
A short in the wiring, saving the unit from costly damage.
Easy on/off front mounted switch and an easy-to-read LED indicator.
Every model comes with built in input and output circuit breakers for ease of installation.
The standard battery temp sensor monitors temperatures from 0 - 50° C.
Backed by a two-year (24-month) parts and labor warranty.