OUTBACK POWER-FXR / VFXR Series Grid-Hybrid Renewable Energy System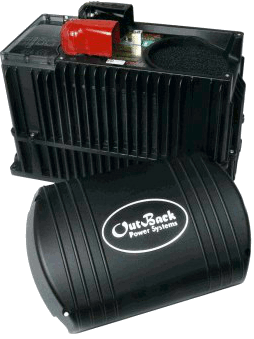 Outback Power
FXR/VFXR 120V Series 
Grid/Hybrid Inverter/Chargers
Outback Power's new FXR Series of Grid/Hybrid inverter/chargers allow you to operate in off-grid or grid-tied applications. Think FX on steroids! Programmable for 7 different modes of operation, including generator assist and advanced battery charging, the FXR series inverter/chargers are ready to be used in nearly any scenario. And the exclusive modular system architecture means that increased power output is just an additional FXR inverter/charger away!
FEATURES:
Both off-grid and grid-tied functionality in one unit
FXR inverter/chargers

 

require

 

a MATE3 to add OPTICS RE to monitor and control system performance
Single-phase 120V, Sinewave Output in 12V, 24V, or 48V Versions
2000W, 2500W or 3000W Sealed Models
2800W, 3500W or 3600W Vented Models
Programmable for 7 different modes with generator assist
Intelligent battery charging with expanded parameters to accomodate new technologies including Lithium Ion and Aqueous Ion
Modular, stackable design for up to 9 inverters in 3-phase system and up to 10 inverters in a grid-tied 24V or 48V system
Up to 93% operating efficiency
NEMA 1 die-cast aluminum chassis designed to operate in the harshest environmental conditions such as high temperatures, humidity or corrosive salt air
Corrosion-resistant internal components
Field upgradable software
Standard 5-Year Warranty with Optional 10-Year Extension directly through Manufacturer (see DOCUMENTS tab above for form)
NOTE:  All models are listed to UL1741-SA, except for the 12V models.



 AMRtechnologies Solar & Electrical Systems
Tel: (+506) 2438-3246 or (+506) 2438-3272
Toll Free: 1(800) 2130227
Solar Systems in United States & Latin America