Due to global supply chain constraints lead times for shipments may be delayed. We are actively working with our suppliers to mitigate shortages and improve lead times. If you have questions, please contact your AMRtechnologiesInc. representative at 1-800-213-0227 or submit your question AMRtechsolar@gmail.com

HEAT RECOVERY POOL HEATING SYSTEM
FREE POOL HEATING FROM AIR CONDITIONER WASTE HEAT
HotSpot FPH Free Pool Heating The FPH provides free pool heating by recycling the waste heat that your air conditioner throws away. In the process, the FPH increases the efficiency of your air conditioner, saving up to 40% on your electricity costs for indoor cooling.
Extend your swimming season to match your air conditioning season with zero pool heating costs. The FPH converts your standard AC into a water-source geothermal type system, saving up to 40% on air conditioning costs. Automatic programmable thermostat controller monitors the pool temperature and activates the pool pump/heat recovery when heat is needed to maintain the desired pool temperature. Operates day or night, rain or shine. Only 6-8 hours per day of normal AC operation can heat a standard home pool. Can be installed in less than a day by an experienced local HVAC contractor. FPH Heat Recovery Pool Heaters are available for any size system. Standard quick-ship systems are built for AC units sized 2 to 10 tons. Heat pumps use a special model, you must let us know if it's a heat pump. All systems include properly selected components for your AC and pool. The FPH pool heating systems are available as an installation-ready system kit. For all AC system types including R410a. PVC pipe and HVAC installation materials are obtained locally.
Facts About Heat Recovery Pool Heating:
Extends your swimming season to match your air conditioning season with zero pool heating costs.
Converts your AC into a hybrid geothermal system, saves up to 40% on air conditioning electric costs.
Can pay for itself in two swimming seasons or less compared to a heat pump pool heater.
Costs less and avoids the problems of solar panels attached to your roof. Operates day or night, rain or shine.
Titanium Heat Exchanger:  Constructed with Titanium, the FPH heat exchanger can stand up to years of harsh swimming pool chemicals.
The FPH pool heater is essentially a geothermal water-source upgrade for a standard air source air conditioner. This can allow the air conditioner to use less electricity and/or increase cooling capacity, and makes the AC very quiet because the outdoor fan unit does not need to run. When the pool needs heat, all of the heat goes directly into the pool. A 4-ton air conditioner running 8 hours per day can produce about 480,000 BTU per day, about equal to 10 extra-large solar pool panels and enough to heat a large size pool. An FPH pool heater can connect to multiple AC units if needed. The AC unit can be up to 200 ft. away from the pool, depending on pump horsepower. FPH may be available through your local pool or HVAC dealer or if not, you can order it directly from HotSpot. Systems are available as a pre-configured kit ready for your local licensed installer.
The FPH controller monitors pool temperature and AC system status, the FPH pool heater is active only when the pool needs heat.
Simple Installation:
The pool side of the system installs similar to solar pool heating, but instead of installing and connecting to an array of panels on the roof, the connection is made only from the pool pump to the FPH unit, which is installed next to the customers air conditioner. The FPH is made to connect to standard PVC pool piping. Most any competent HVAC technician can install it in less than a day. The work of connecting the FPH to the AC must be performed by a licensed air conditioning professional and can be done in about 6 hours.
Why is it called a FPH?   The product was developed for Free Pool Heating.  So we called it a "FPH".
Comparison to a Solar Pool Heater:
People often compare our pool heater to solar pool heating.  Both are green, earth friendly ways to save money. The FPH pool heater saves more money than solar pool heating because of the electrical cost savings on the AC.  It works even when there's no sun. But if you really think about it, the FPH is a solar pool heater. The heat that comes from the AC, comes from inside the building.
A building is a giant solar collector, sitting in the sun and collecting heat directly, and from the solar heated environment. That's why we run air conditioners in the summer, to take the solar heat from the inside and put it outside. The FPH pool heater is taking solar energy from inside the building and putting it in the pool.
While heating the pool for free, it's also saving on air conditioning costs at the same time.
Heat Recovery Valve Options
UL Listed Refrigerant Heat Reclaim Valves
R410a, R22, R134 & All Common Refrigerants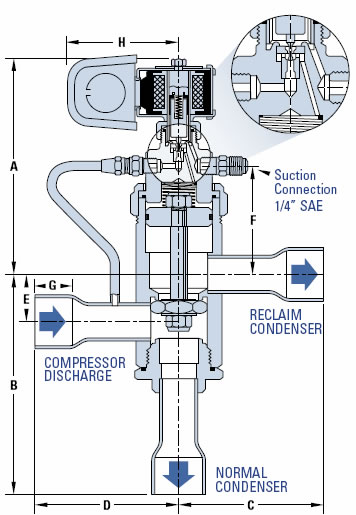 Above: Internal design of one of our heat reclaim valves used for cooling-only units. One port always connects to the compressor discharge, one port always to suction. The other two ports are used to alternate between two condensers. The operation of the valve is governed by the controls logic established for the application. Valve has 5/8" connections, 650 psi rating, 24vac coil.A typical heat recovery installation will use one or more heat recovery valves, one heat exchanger, and a properly configured control system.
Heat Recovery Valves for condensing in corrosive fluids (like water with chlorine or saltwater) are typically used with a water cooled titanium heat exchanger. Other valves are available for heating potable water above the condensing point, to obtain higher temperatures, for example to make domestic hot water. Systems for this purpose are called desuperheater heat recovery water heating systems and are available for residential and commercial applications.
Titanium Heat Exchangers
Free Swimming Pool Heat Using
Waste Heat Recovery From Air Conditioner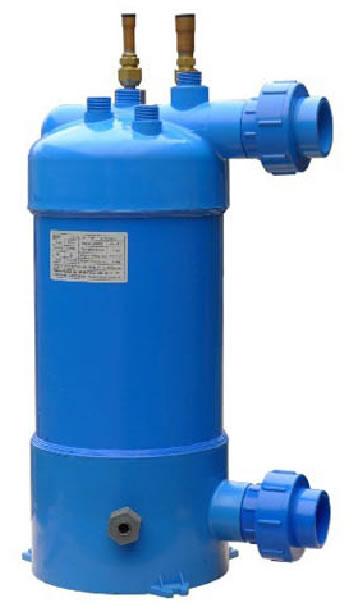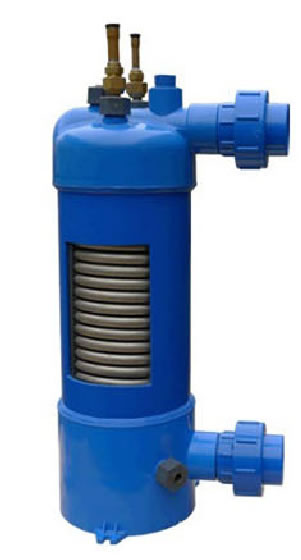 FPH5                             FPH3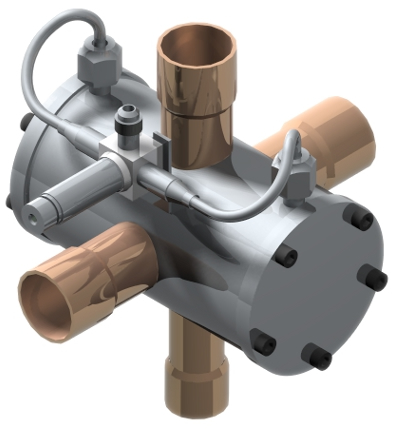 When working with most heat recovery applications, you are essentially providing a secondary condenser to capture heat that would normally be wasted by an air cooled condenser. It is important to have a design that evacuates the unused condenser, to make sure that no refrigerant is left behind.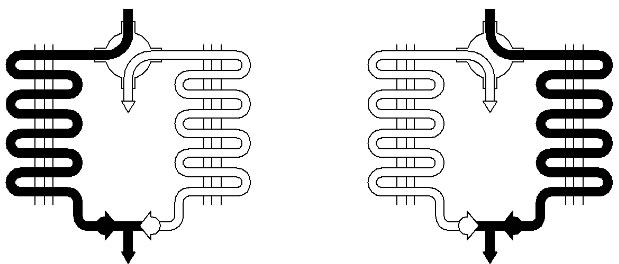 TECHNICAL SPECIFICATIONS - Heat Recovery Pool Heating System 
This Product does not include Tax and shipping costs. International shipping is subject to regulations and Import Taxation of Country of destination.
AMRtechnologies Inc. Solar & Electrical Systems
Tel: (+506) 7037-8077 or Toll Free: 1(800) 2130227
Solar Systems in United States & Latin America
www.AMRtechsolar.com