Due to global supply chain constraints lead times for shipments may be delayed. We are actively working with our suppliers to mitigate shortages and improve lead times. If you have questions, please contact your AMRtechnologiesInc. representative at 1-800-213-0227 or submit your question AMRtechsolar@gmail.com
Kit OUTBACK RADIAN-3.6 kW Pr-Engineered Battery Based Solar Kit
The OutBack Power Radian GS8048a-A1 with prewire GS load center GSLC175-PV-120/240 power assembly that features the technologies for Off-Grid and utility Grid-Tie functionality in one unit. Off-Grid, Backup, Grid-Interactive, Flooded, Gel, AGM, Lithium-ion battery compatible. 48VDC Battery Base Inverter, 240VAC 33.3 AAC Output ( Single Radian=33.3. Each parallel stackied inverter adds 33.3 AAC Output. Example X2 Radian inverters=66.6 AAC Out) The Outback inverter produces pure sine wave clean electricity drawing power from the energy stored in the battery bank. Machanically and electrically engineered, every component has been specially selected to assure the highest performance with this safe simple-to-install kit
12 Mission, 300W Solar Panels Black Frame Mono-Perc MSE300SQ5T
1   Outback, Radian GS8048A-01 Battery Based Inverter/Charger (Requires 48VDC Battery Bank)
1   Outback, GSLC175-PV-12/240 Prewired GS Load Center
2   Outback, FM80 MPPT Charge Controller, 80A, 150VDC, 48VDC Battery Energy Storage
1   Outback, FW-CCB2, Flexware Dual FM CC Side Mount Bracket or Pre-Assembled Back Plate
1   Outback, MATE3s, Advanced Remote Monitor and Controller
1   Outback, FW-MB3, Flexware MATE3 Side Mount Bracket or Pre-Assembled Back Plate
1   Outback, Communications Hub10.3 for Master Stacking in GS Inverters, 10 Ports
1   Midnite Solar, Combiner box, for 12 PV breakers 3R, MNPV12
4   MidNite Solar MNEPV-15 - 15 AMP DC Breaker 150VDC
2   MidNite Solar MNSPD-300-DC Surge Protector Device (Lighting Arrester)
1   Midnite Solar MNSPD300-AC Surge Protector Device (Lighting Arrester)
4   50' PV Wire, 10AWG, UL4703 600VDC; Male/Female MC4 Connectors
1   Multi-Contact MC4 Unlocking Tool
8   Strain Relief, Cord Grip, 1-Hole for 5 to 12mm (.200" - .472") OD Wire, 1/2" with locknut
2   Inverter Battery Cables, Code Approved THW, 4/0 x 10' (ft.) (2 black)
1   Line Drawing; Full Instructive Three-Line Diagram of Entire DC Circuit, as Well as AC Lines to Your Main Panel.
The Off-Grid or Grid-Interactive;

 

Grid/Hybrid Solution w/ Mission Mono Panels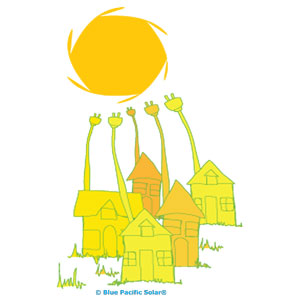 Solar Production = 14,400 Watts Per Day ● Assumptions: STC 300 Watt Panel Rating [Factory Rating] @ 4.0 Sun Hours (Dec). Sun Hours should reflect the average value of total solar energy received in peak-sun-hours per day on an optimally-tilted surface during the month with the lowest solar radiation (not the yearly average). This is the best number to use in off-grid system design where the electrical demand is continuous or is not expected to vary seasonally and the system must be designed to operate year-round.
Technical Specifications: Radian Power Center ● 48 VDC Battery Based Pure Sinewave Inverter. 240VAC Output, Continuous Inverter AC Output Current 33.3 AAC (Single Radian) ● Charge Controller FM80 NEC Recommended Solar Maximum Array STC Nameplate: 48VDC systems: 4000W per Charge Controller; ● 240 VAC Generator Compatible.
IMPORTANT: Amps AC Output; Define Your Load Amp Requirements: A Single OutBack Radian inverter's continuous AC output current is limited to 33.3AAC. The concern here is that the combination of your normal loads (Not Surge Loads) might exceed the inverters output current rating (Amps Out) on larger solar systems. It is critical in the design selection that you make sure the continuous AC load combination of your power requirements at the site is at or below the 33.3 AAC output limit of a single Radian inverter. (Single Radian = 33.3 AAC Output. Each Parallel Stacked Inverter adds 33.3 AAC Output. Example X2 Radian Inverters = 66.6 AAC Output)
The Radian GS8048A-01 is ideal for full-size solutions for off-grid, grid-tie and or backup power for homes, farms or small commercial systems. The OutBack Kit comes with all necessary solar components integrated into a compact hang-on-the-wall system with a minimal footprint. (Locally Sourced Wire and Conduit Will be Required)
● Off-grid and grid-tie functionality in one flexible system.
AC Input Connection
Programmable for seven different modes including GridZero, which blends utility power and stored renewable energy, minimizing grid dependence; also Support Mode for seamless generator integration.
Grid Tied
The Grid Tied mode allows the Radian inverter to become grid-interactive. This means that in addition to using power from the utility grid for charging and loads, the inverter can also convert excess battery power and export power to the utility grid. Excess battery power usually comes from renewable energy sources, such as solar arrays, hydroelectric turbines, and wind turbines.
Backup
Backup functionality requires a seperate critical load panel. The Radian inverter's transfer circuit and will power the loads when utility power is lost.
Personal Technical Advisor
Line drawing questions or just stuck? No worries we have your back and will be here to help whenever you have questions about your purchased Kit. For orders larger than $2,000.00 a Technical Sales Team Group Captain will be assigned your account. Your Technical Advisors job is to coordinate all parts and pieces of your order and to work with you throughout the process. This support helps because we will be providing you with a single contact point to call with your questions. Your technical support contact does not replace the maufactures warranty technical support. DIY means you accept the responsiblity of reading and following the line diagram and other installation documents prior to tackling the installation.
NOTE: For detail support after installation customer must be willing or have the ability to connect to the system monitoring via web interface with OutBack OPTICS RE. The monitoring platform software is free but requires a WiFi connnection to the Mate3s Controller via RS485 .
Mission Solar Panels 18.1% Panel Efficiency
 Kit is featured with Mission panels. Mission Solar Energy, proudly assembled in the USA, is headquartered in San Antonio, TX with module facilities onsite. Mission Solar hardworking team calls Texas home and is devoted to producing high quality solar products. Our supply chain includes local and domestic vendors. 25 Year Warranty, UL Listed.
This Product does not include Tax and shipping costs. International shipping is subject to regulations and Import Taxation of Country of destination
AMRtechnologies Inc. Solar & Electrical Systems
Tel: (+506) 7037-8077 or Toll Free: 1(800) 2130227
Solar Systems in United States & Latin America
www.AMRtechsolar.com