Due to global supply chain constraints lead times for shipments may be delayed. We are actively working with our suppliers to mitigate shortages and improve lead times. If you have questions, please contact your AMRtechnologiesInc. representative at 1-800-213-0227 or submit your question AMRtechsolar@gmail.com
 SQUARE D ELECTRIC-CIRCUIT BREAKERS
Breakers and Fuses
The types of specialty breakers that we sell are designed and rated especially for renewable energy. The kind of breakers that you can get locally are not DC rated (Or legal) for use in your RE system.
Some of the Square D QO breakers are AC/DC rated but, on the DC side they are only rated to 48 volts, which means they theoretically could be used in 12 or 24 volt DC systems but, all the voltage in a 48 volt system are above 48 volts so they cannot be used. The same thing holds true for automotive and marine breakers and fuses as well.
With charge controller voltages now at 150, 250, 300 and 600 volts DC, special breakers and fuses designed for the purpose are absolutely necessary and code compliant.
Our DC Breakers are rated at 125, 150 and 300 volts DC and touch safe fuses and holders are rated for 1000 volts DC. Each rating is for a particular purpose, so, ask your sales person for the correct part for your application.
 Circuit breakers perform 3 key functions: protection, switching, and monitoring. Circuit breakers are designed to "break" (discontinue) the flow of electricity to protect people and equipment when current reaches an unsafe level due to overload, short circuit, or other electrical faults. Different types of circuit breakers may include design features that provide ground fault and/or arc fault protection for residential use, or with metering and alarm functions, and remote on/off control for commercial and industrial use. We are your one source solution for all your circuit breaker and equipment needs. We have the broadest array of circuit breakers in the industry, including Square D circuit breakers for superior circuit protection, the legendary PowerPact molded case circuit breaker (MCCB), and high current MasterPact air circuit breakers (ACB). Our products deliver the reliability and performance you and your customers demand.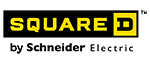 Square D "Homeline" Minature Circuit Breakers
         Homeline minature circuit breakers for homeline load center
                   Square D QO & QOB Minature Circuit Breakers
                   QO(B) minature circuit breakers for QO system
                                QOU Unit Mount Circuit Breakers
            For overcurrent protection and switching on both AC & DC systems
Square D QO and QOB Minature Circuit Breakers
                 QO(B) miniature circuit breakers for QO systems
QO(B) circuit breakers come in plug-on or bolt-on options and a complete range of amperages and interrupting ranges to fit into various QO distribution panels. QO is the "World's Finest" Industry leading offer since 1955, with features engineered for faster installation, reliability and quality.

This Product does not include Tax and shipping costs. International shipping is subject to regulations and Import Taxation of Country of destination.