Due to global supply chain constraints lead times for shipments may be delayed. We are actively working with our suppliers to mitigate shortages and improve lead times. If you have questions, please contact your AMRtechnologiesInc. representative at 1-800-213-0227 or submit your question AMRtechsolar@gmail.com
SUNEARTH Inc-SolarStation HX Glycol

Sunearth pump station for closed loop solar DHW systems that do not have a tank with an internal heat exchanger. Complete packaged pump station with Stainless Steel plate type heat exchanger, Grundfos UPS15-58FRC glycol pump, 15-10B5 brass domestic water loop pump, fill & purge valves, Steca 301 control with 3 sensors, pressure gauge, relief valve, & air purger. Expansion tank not included. For systems up to 200 square feet of collectors.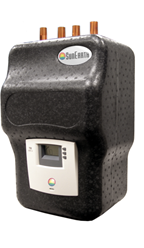 Solar Water Heaters & Solar Thermal Systems
Cost Effective, Environmentally Friendly, Maintenance Free
Solar hot water systems are environmentally friendly and can now be installed on your roof to blend with the architecture of your house. More than 1.5 million homes and businesses in the United States have invested in solar heating systems, and surveys indicate that over 94% of these customers consider the systems a good investment.
Convert Electric Water Heater into Solar Thermal Heater
The Solar Station HX converts any existing water heating system into a solar water heating system.
Efficient
High performance collectors are only half of the equation. The key to an effective solar water heating system lies in pulling the heat out of the collectors and putting it into your tank. The Solar Station HX does this better than any other freeze-protected system on the market. 
Compact
Optimized for performance and a low profile look. All valves, controls and cleaning ports fit neatly in one easy-to-maintain package. 
Labor Saving
It's quick and easy to install. Once the collectors are mounted on the roof, it is just a question of running the insulated lines and connecting to the Solar Station HX. It's that simple!
This Product does not include Tax and shipping costs. International shipping is subject to regulations and Import Taxation of Country of destination.
AMRtechnologies Inc. Solar & Electrical Systems
Tel: (+506) 7037-8077 or Toll Free: 1(800) 2130227
Solar Systems in United States & Latin America
www.AMRtechsolar.com