Due to global supply chain constraints lead times for shipments may be delayed. We are actively working with our suppliers to mitigate shortages and improve lead times. If you have questions, please contact your AMRtechnologiesInc. representative at 1-800-213-0227 or submit your question AMRtechsolar@gmail.com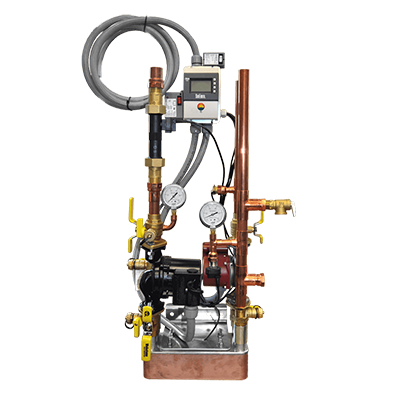 SunEarth's commitment to performance, durability and innovation has lead to the development of our commercial scale pumping station. Our SolarStation XL contains all the features and safety devices required allowing for quick selection and implantation in a commercial Solar Water Heating System of up to 720 square feet of collector area. The SolarStation XL satisfies the growing demand of the mechanical system design community for a robust and cost-effective solution for modular system design of Solar Thermal Systems.
SunEarth's SolarStation XL series are factory assembled utilizing only top tier components and tested for hydraulic integrity by SunEarth, the United States leader in Solar Water Heating.
 Features and Components
The SolarStation XL is SunEarth's solution to commercial solar thermal systems up to 720 ft2 of collector area. Designed with multi speed pumps to ensure compatibility with a wide range of system configurations. The SolarStation XL is factory assembled using top tier components and is tested for hydraulic integrity to ensure a smooth installation.
Controller
Operates the pumps through differential temperature algorithms, the Liquid Crystal Display (LCD) offers insight into the system operation and condition. The controller reports temperature readings from up to 5 locations with 3 controllable outputs. Micro-SD card for data logging of Time, date, temperature, flow-rate, pressure and energy measurements are standard. Optional internet connectivity and system reporting through a web based application.
 Electronic Flow Meter, Pressure and Temperature Sensors
Enables solar system energy production monitoring and accurate solar system control. Ensuring faster system commissioning with the ability for precise adjusts to system parameters.
Heat Exchanger
Brazed Plate Heat Exchanger manufactured from corrosion resistant 316L Stainless Steel. Channel design promotes turbulent flow for superior heat transfer through a range of flow rates. Aluminum bracket allows for attachment to wall mounted strut. Optional double wall heat exchanger available.
 Pumps
Wet-rotor type whereas the pump and motor form an integral unit without shaft seals. Solar and Potable pump utilize composite impellers with cast-iron and stainless steel volutes respectively. Integrated check valves prevent unwanted heat migration and multiple speed settings provide the ability to tune the solar system for optimal operation rates.
Service Valves
Ball drain valves eliminate dozens of leak paths, allowing for trouble-free flushing, draining and filling of Solar and potable circuits.
This Product does not include Tax and shipping costs. International shipping is subject to regulations and Import Taxation of Country of destination.
AMRtechnologies Inc. Solar & Electrical Systems
Tel: (+506) 7037-8077 or Toll Free: 1(800) 2130227
Solar Systems in United States & Latin America
www.AMRtechsolar.com