Due to global supply chain constraints lead times for shipments may be delayed. We are actively working with our suppliers to mitigate shortages and improve lead times. If you have questions, please contact your AMRtechnologiesInc. representative at 1-800-213-0227 or submit your question AMRtechsolar@gmail.com
VITRON ENERGY- VE.Direct LoRaWAN module
 VE.Direct LoRaWAN - module

Using the VE.Direct to LoRaWAN module you can connect your BMV, MPPT or Phoenix Inverter to the Victron Remote Management portal. View information such as battery status or solar power wherever you are on your desktop or mobile phone.
Remote Monitoring and Control
You can check the status of your connected products on our free remote monitoring website: the VRM Online Portal. To get an impression of the VRM Online Portal, visit vrm.victronenergy.com, and use the 'Try Our Demo' button. The portal is free of charge.
Long Range Wide Area Network
LoRaWAN is a wireless network that operates on the 868Mhz frequency. It has a long range and uses small amounts of power. The VE.Direct LoRaWAN module can send hourly data updates via this network. You do not need a subscription to make use of this network. If you do not have coverage in your region it is possible to add your own gateway.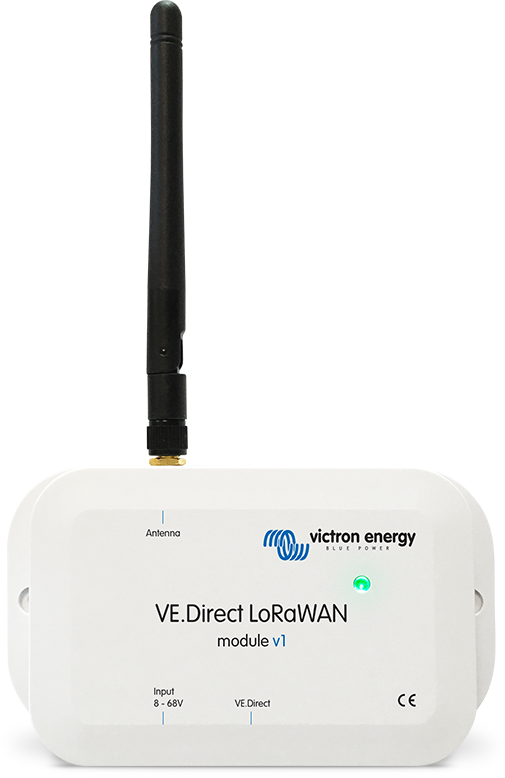 VE.Direct LoRaWAN module manual
NOTICE: Software Update
All units with versions earlier than v1.05 have been recalled for a free software update; due to the issue that they stop transmitting after a while. How long it takes before they stop transmitting varies; and is typically between 12 and 60 days.
You can find your version number in the VRM portal. Go to your installation → open device list in the left menu → unfold the gateway tab and find the firmware version.
Introduction
Thank you for purchasing a VE.Direct LoRaWAN module. It allows you to connect other Victron equipment, such as your Battery Monitor (BMV); Solar Charger; or Phoenix Inverter, to the Victron Remote Management (VRM Portal) portal. The portal is available to use free of charge, and from it you can view the status of your installation from anywhere in the world using your desktop device or mobile phone.
LoRaWAN radio frequencies and coverage
warning: LoRaWAN Coverage The "The Things Network" LoRaWAN network is not a commercial network. Public gateways are maintained by the community and coverage can not be guaranteed.
The VE.Direct LoRaWAN (Long Range wide area network) module is essentially a radio transmitter which broadcasts data (in this instance information about the status of your Victron installation) to a nearby Internet of Things (IoT) gateway. The gateway should be within about 2km of your location if you live in a town, but could be as far away as 15km if you live in a rural location. This device uses infrastructure provided by 'The Things Network'. Their network of gateways is constantly expanding and you can check coverage in your area here: https://www.thethingsnetwork.org/map.
tip: Add your own gateway You can even expand the TTN IoT infrastructure to your area by establishing a new gateway. The hardware cost would be a few hundred Euro's, and you would need a power supply and an internet connection. Make sure to buy a Multi channel gateway. The lower cost Single channel gateways are not supported.
Bandwidth and frequencies
warning: Unsupported Frequencies We do not support the TTN AU923 Frequency for Australia, only the AU915Mhz. Please make sure your gateways are on the correct frequency.
Whilst it's free to use, and long range, LoRaWAN is not high bandwidth. Therefore data is only sent once an hour …some less important data is only sent once every 24 hours. (See below for more information.)
Frequencies used by the LoRaWAN module differ by region and country. We stock three different versions:
ASS030538010 - VE.Direct LoRaWAN EU863-870 module

ASS030540010 - VE.Direct LoRaWAN US902-928 module

ASS030542010 - VE.Direct LoRaWAN AU915-928 module*
The EU version can be used in most of Europe and certain countries in Africa. The US model can be used in the Americas.
Product compatibility
This module has one VE.Direct port and is compatible with:
All MPPT Solar Charge Controllers which have a VE.Direct Port

BMV Battery Monitor 700 series

BMV Battery Monitor 712 Smart series

Phoenix Inverter VE.Direct models
The module is not compatible with our Peak Power Packs - even though they have a VE.Direct Port.
This Product does not include Tax and shipping costs. International shipping is subject to regulations and Import Taxation of Country of destination.
AMRtechnologies Inc. Solar & Electrical Systems
Tel: (+506) 7037-8077 or Toll Free: 1(800) 2130227
Solar Systems in United States & Latin America
www.AMRtechsolar.com