Due to global supply chain constraints lead times for shipments may be delayed. We are actively working with our suppliers to mitigate shortages and improve lead times. If you have questions, please contact your AMRtechnologiesInc. representative at 1-800-213-0227 or submit your question AMRtechsolar@gmail.com
VITRON ENERGY-Color Control GX Panels & system monitoring
The Color Control GX is the communication-centre of your installation. It offers at-a-glance live information, and lets you control all products connected to it. Full system control is gained almost anywhere in the world by accessing your Color Control GX using our free-to-use Victron Remote Management Portal (VRM).
At a single touch, Color Control GX provides an instant overview of your system: battery state of charge; present power consumption; power harvest from PV; power provision from mains/generator.
Victron Remote Management (VRM) provides you with full access to the very extensive controls and settings of all system-components which are connected to either your CCGX or Venus GX. It allows remote user and installer login from anywhere, at anytime. This powerful application also provides for hassle-free diagnostic checks and analysis of archived information.
The Color Control GX can be programmed to auto-start your generator triggered by low-voltage; high-demand; or battery state of charge. It can be further tailored to delay ignition until the end of 'quiet' periods avoiding accidental nuisance at dead of night.
A Remote Console feature is available. It's like carrying the front face of your CCGX control panel around on your phone, or other device.
The Color Control GX manages Energy Storage Systems. It keeps back-up batteries at 100%; kicks-in during power-cuts; and diverts excess (solar) power to self-consumption to help saving you money.
Planning a trip? Remote monitoring of your Color Control GX allows you to make sure your boat or motorhome are ready to go. Color Control GX also allows you to talk to connected equipment from other manufacturers.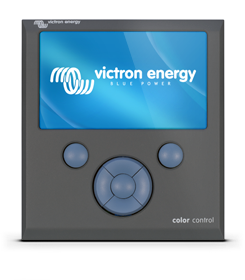 The Color Control GX provides intuitive control and monitoring for all products connected to it. The list of Victron products that can be connected is endless: Inverters, Multi's, Quattro's, MPPT 150/70, BMV-600 series, BMV-700 series, Skylla-i, Lynx Ion and even more.

VRM Online Portal
Besides monitoring and controlling products on the Color Control GX, the information is also forwarded to our free remote monitoring website: the VRM Online Portal.
This Product does not include Tax and shipping costs. International shipping is subject to regulations and Import Taxation of Country of destination.
AMRtechnologies Inc. Solar & Electrical Systems
Tel: (+506) 7037-8077 or Toll Free: 1(800) 2130227
Solar Systems in United States & Latin America
www.AMRtechsolar.com