Due to global supply chain constraints lead times for shipments may be delayed. We are actively working with our suppliers to mitigate shortages and improve lead times. If you have questions, please contact your AMRtechnologiesInc. representative at 1-800-213-0227 or submit your question AMRtechsolar@gmail.com
Eco-Worthy-40A MPPT OLED Display Solar Charge Controller Regulator 12V/24V Autoswitch
Description
·Wide Range of Input & Output: Compatible with 12V or 24V DC PV system, it's able to handle maximum of 560W(12V) / 1120W(24V) input solar array, and can draw maximum of 40A output current to battery bank.
·99% Efficient MPPT Technology: Maximum Power Point Tracking technology with a high tracking efficiency of up to 99% and peak conversion efficiency of 98%, 40% more than traditional PWM charge controller. It can keep a stable charging current even on cloudy days, making no waste of any sunlight.
·Compatible with Various Batteries: It's able to charge and discharge different kinds of 12V/24V battery banks, including Gel, AGM, Lithium, LiFePO4, Flooded and NCM/NCA batteries.
·OLED Screen for Real-time Monitoring: Equipped with OLED screen, which can dispaly the status of PV voltage, battery voltage, charging current, charging power, and the button can be used to change the battery type settings.
·Reliable Electronic Protections: It has multiple protections to prevent those circuit issues, including Reverse Polarity, Short-Circuit, High Temperature, Over-Current, and Over-Voltage/Low-Voltage. Prevent explosion and fire condition, keep the controller safe during all time work.  
| | |
| --- | --- |
| ttery voltage:12V/24V | Max Solar Input Power:560/1120W |
| Charging mode:MPPT | Rated Load Current:20A |
| Charge Efficiency (Peak):97% | Self-Consumption:1~2W |
| Battey Type:LiFePO4,AGM,Sealed,Gel,Flooded | Size:220*148*64mm/8.7*5.8*2.5inch |
| Max Charge current:40A | Weight:1.5KG |
| Max.PV Open-Circuit Voltage:<100V | |
ECO-WORTHY 40A MPPT Charge Controller is the most efficient type of charge controller. With up to 99% tracking efficiency, ensures maximum power point solar charging that gets more energy to your battery bank. Capable of automatically detecting 12V/24V lead acid battery systems, this crucial component is preset to also work with Gel, Flooded, Sealed batteries and Lithium batteries.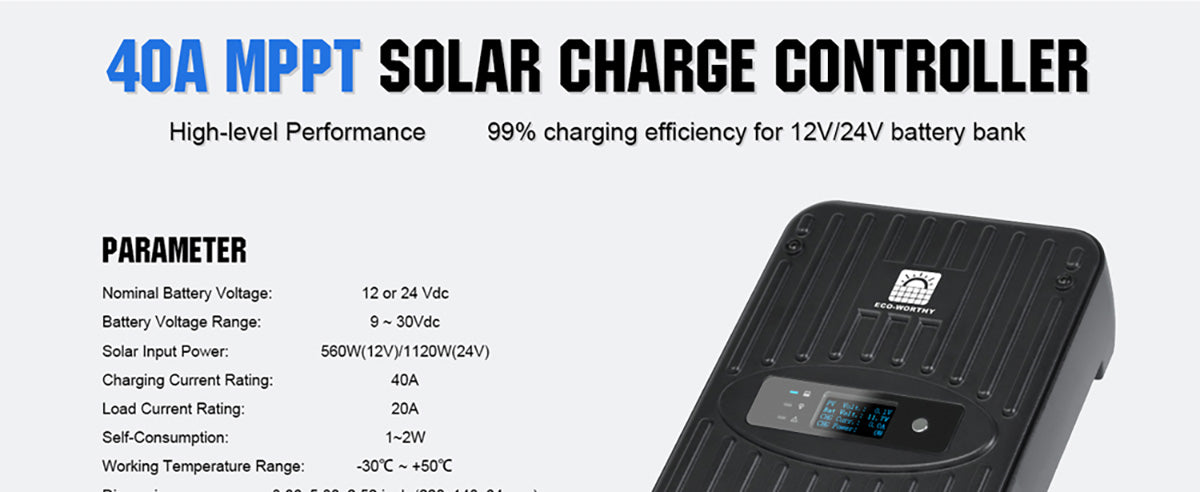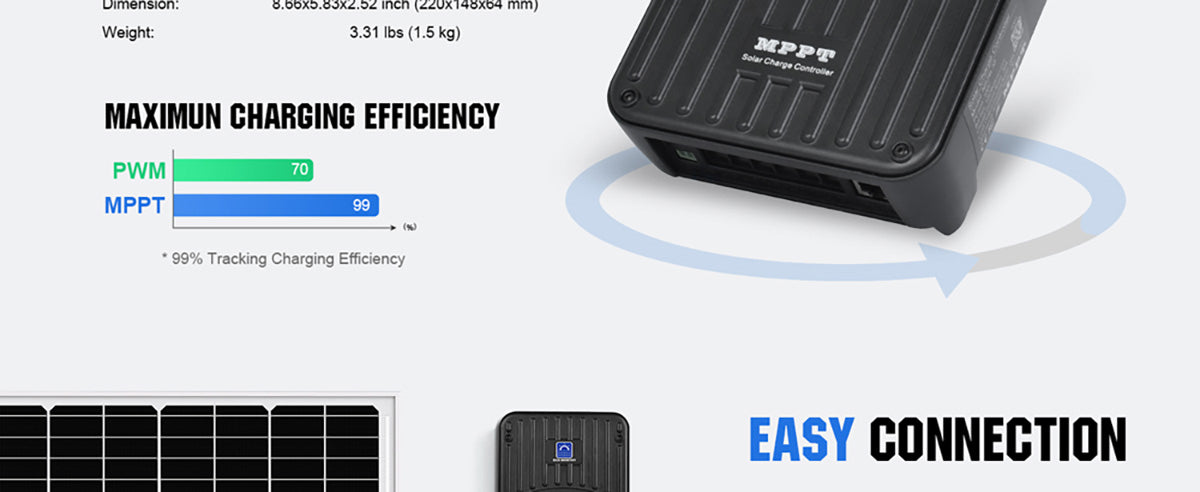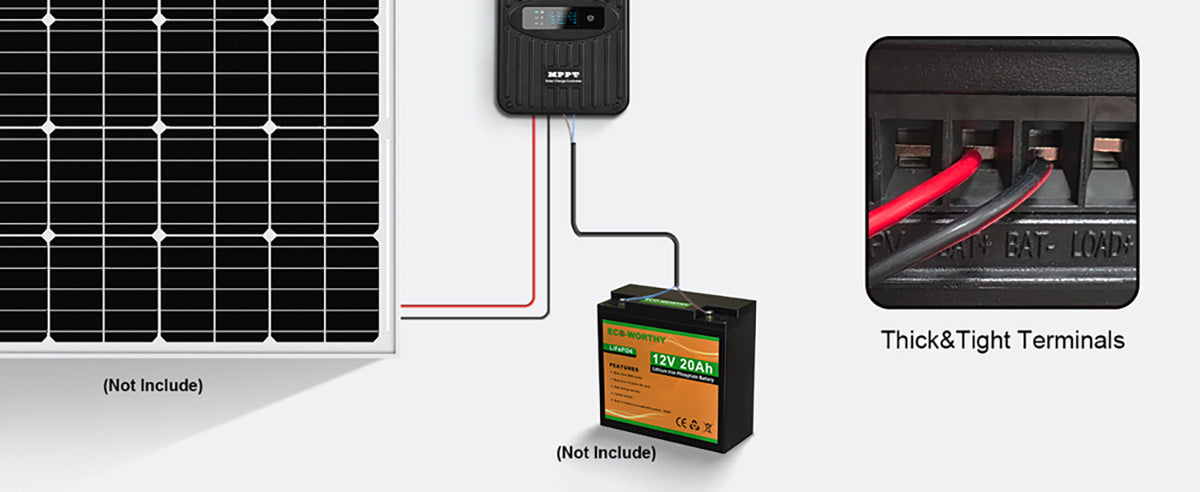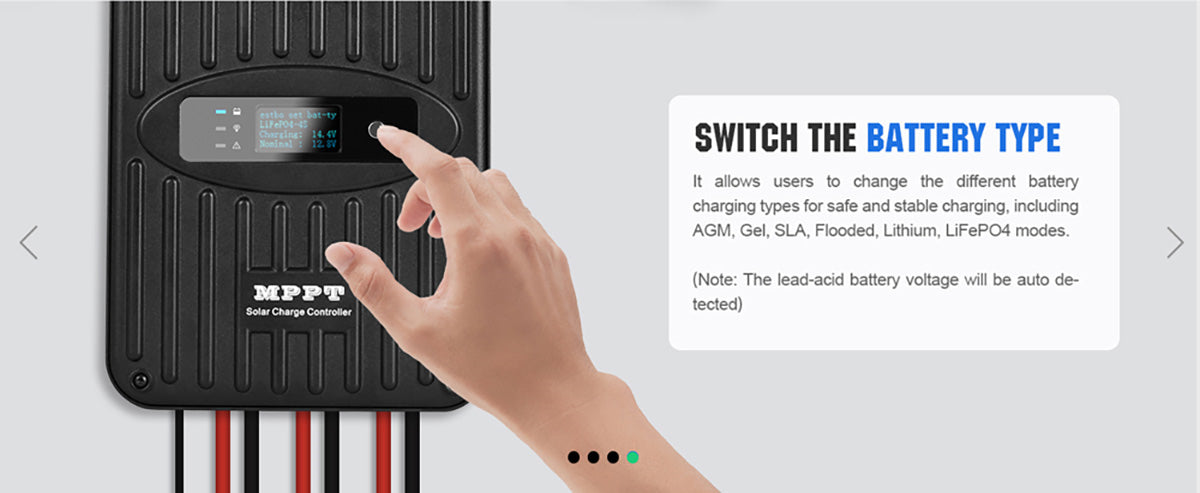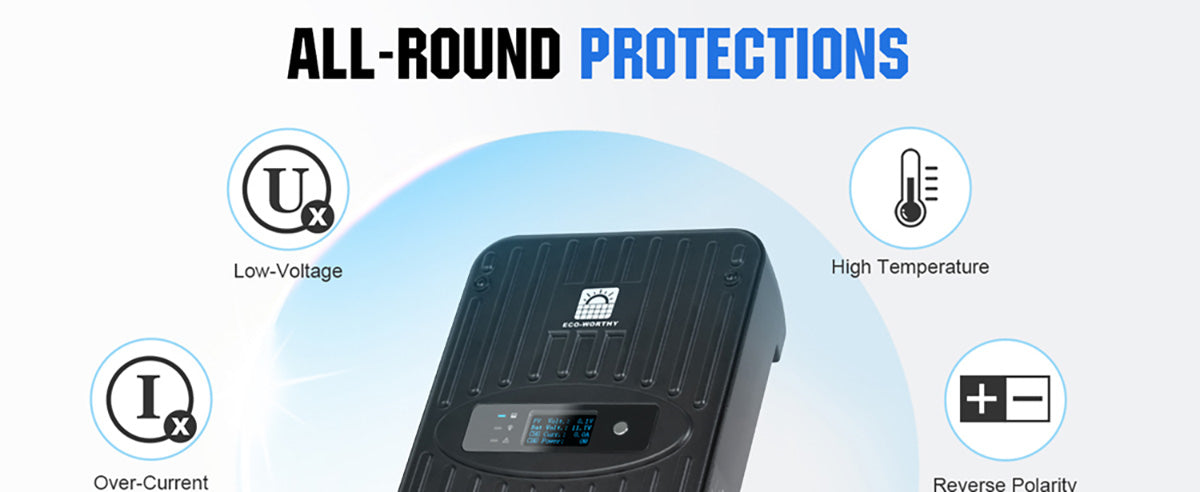 This Product does not include Tax and shipping costs. International shipping is subject to regulations and Import Taxation of Country of destination.
AMRtechnologies Inc. Solar & Electrical Systems
Tel: (+506) 7037-8077 or Toll Free: 1(800) 2130227
Solar Systems in United States & Latin America