Due to global supply chain constraints lead times for shipments may be delayed. We are actively working with our suppliers to mitigate shortages and improve lead times. If you have questions, please contact your AMRtechnologiesInc. representative at 1-800-213-0227 or submit your question AMRtechsolar@gmail.com
Eco-Worthy-40A MPPT OLED ( Blue tooth Module RS485) Display Solar Charge Controller Regulator 12V/24V Autoswitch
Description
·30A Solar Charge controller: The solar charger controller compatibility with 12V 24V system. Discharge Current: 10A, build-in industrial micro controller, automatically manage the working of solar panel and battery in solar system. Dual USB output 5V/2.5A (max), to support mobile phone chargeing.
·Multiple Protection Functions: ECO-WORTHY solar controller has short-circuit protection, open-circuit protection, reverse protection, over-load protection. Fully 3-stage PWM charge management, improve system efficiency and prolong the life span of the battery.
·Battery Type: The charge regulator is suitable for lead-acid batteries, gel batteries and lithium phosphate batteries. For protecting the lifespan of your battery, once the voltage of the battery drop below 8V, the solar controller will turn off automatically.
·LCD Display: Comes with a display that can clearly indicate the status and data, it can be conveniently switched modes and parameter configuration, suitable for home, industrial, commercial etc.
·Easy to Install and Operate: The charge controller should connect the battery first, then the solar panel, and finally the load! The disassembly sequence is contrary to the wiring order. Dual mosfet Reverse current protection, low heat production. ( Note: The charge controller will heat up when it is running. Please be careful to install the charger controller on a flat, well-ventilated place)
| | |
| --- | --- |
| Battery voltage:12V/24V | Max Solar Input Power:560/1120W |
| Charging mode:MPPT | Rated Load Current:20A |
| Charge Efficiency (Peak):97% | Self-Consumption:1~2W |
| Battey Type:LiFePO4,AGM,Sealed,Gel,Flooded | Size:220*148*64mm/8.7*5.8*2.5inch |
| Max Charge current:40A | Weight:1.5KG |
| Max.PV Open-Circuit Voltage:<100V | |
 ECO-WORTHY 40A MPPT Charge Controller is the most efficient type of charge controller. With up to 99% tracking efficiency, ensures maximum power point solar charging that gets more energy to your battery bank. Capable of automatically detecting 12V/24V lead acid battery systems, this crucial component is preset to also work with Gel, Flooded, Sealed batteries and Lithium batteries.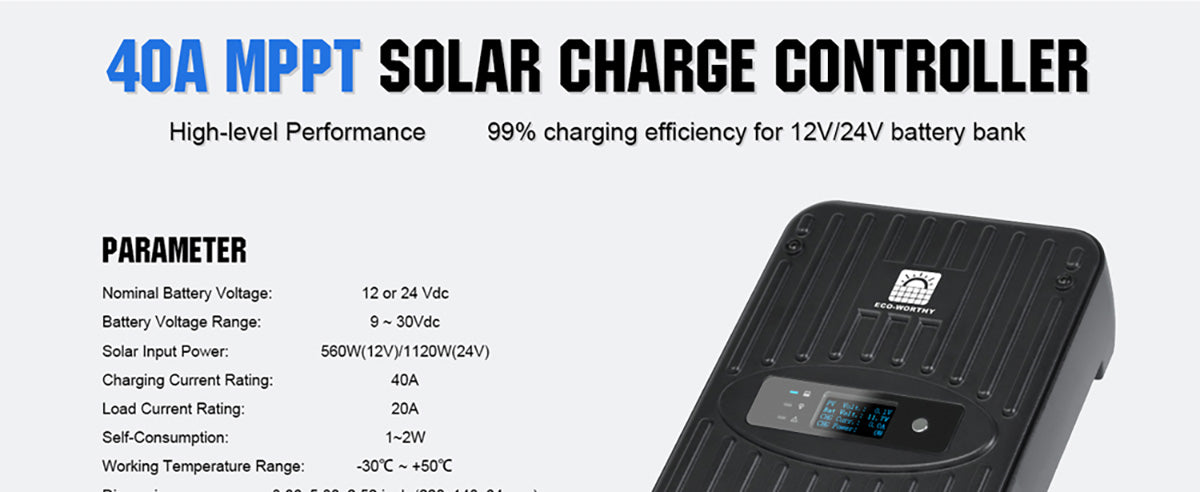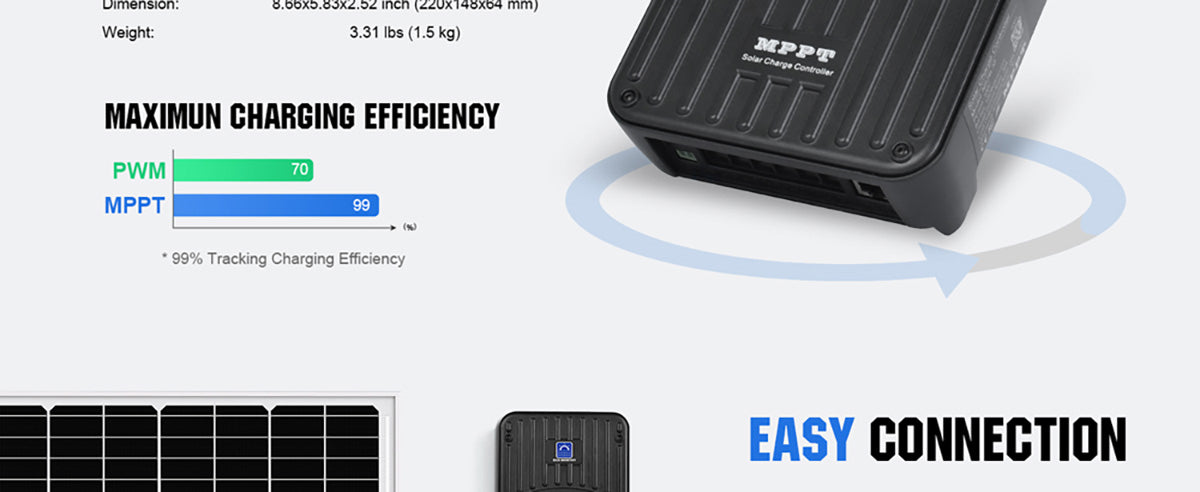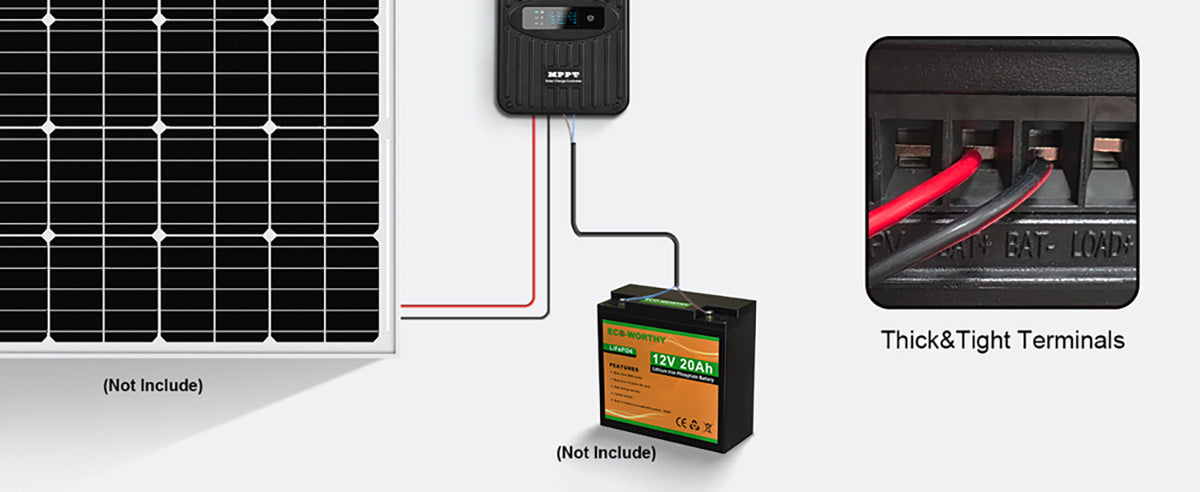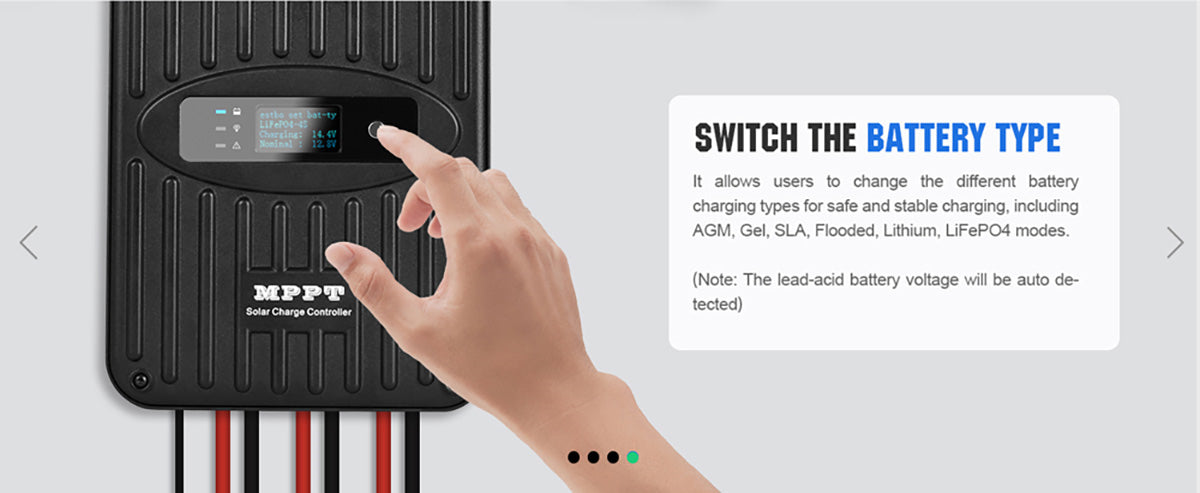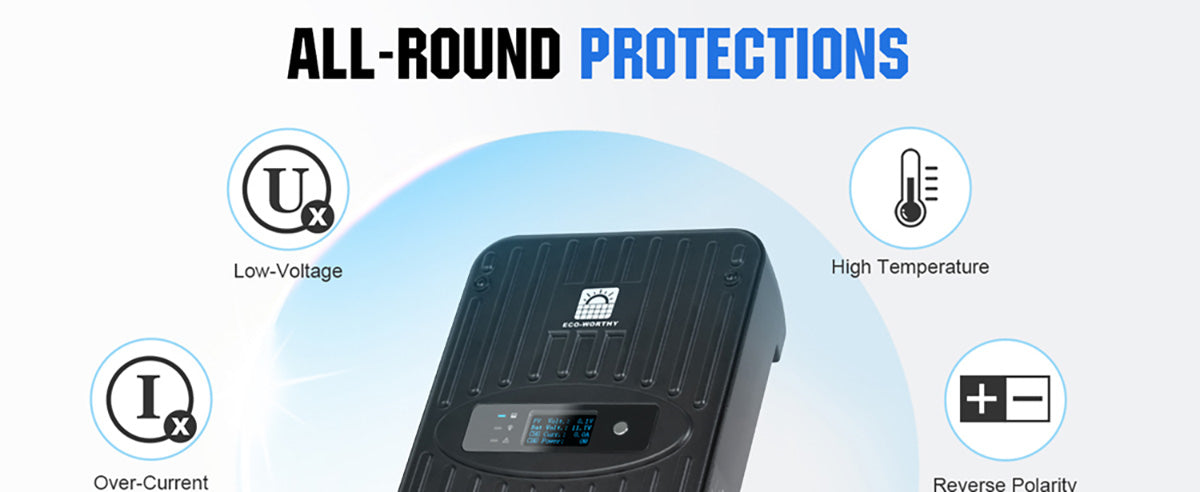 This Product does not include Tax and shipping costs. International shipping is subject to regulations and Import Taxation of Country of destination.
AMRtechnologies Inc. Solar & Electrical Systems
Tel: (+506) 7037-8077 or Toll Free: 1(800) 2130227
Solar Systems in United States & Latin America