Due to global supply chain constraints lead times for shipments may be delayed. We are actively working with our suppliers to mitigate shortages and improve lead times. If you have questions, please contact your AMRtechnologiesInc. representative at 1-800-213-0227 or submit your question AMRtechsolar@gmail.com
Hot Spot Energy- ACDC12C, Solar Air Conditioner/ Heater (12,000 BTU)
If your power source is native 48VDC (or -48VDC) as part of a telecom or off-grid solar application, DC4812VRF all-DC air conditioners are your most efficient cooling choice. DC48 air conditioners can substantially reduce power supply/generation costs and battery requirements. An all-DC system means you get the advantage of extreme high efficiency without the need for inverters.
The DC4812VRF is a purpose-built DC powered air conditioner heat pump for native DC power. It's designed to conserve power, and operate reliably for many years without maintenance.
SeaSpray Anti-Corrosion technology protects circuit boards, condenser, evaporator, compressor, and fan motors from salt air corrosion. SeaSpray is available beginning Q2 2014.
The DC4812VRF is a variable capacity, variable speed, variable refrigerant flow unit. There is no other solar or DC air conditioner like it on the market.
DC4812VRF
Solar / DC Off-Grid Air Conditioner 
Indoor Wall Mount Unit (IDU) 

                                                Indoor Unit (IDU)

Stand-Alone or Complete Systems Including PV Panels, *Batteries, Mounting Hardware, Charge Controller. 
Complete Systems from $3995
Systems for 10,15,20 and 24 Hour Operation
All DC – No inverter Needed
Variable Speed & Capacity
SeaSpray Anti-Corrosion Technology
Heat Pump Unit Provides Cooling & Heating
Exceptionally Quiet Operation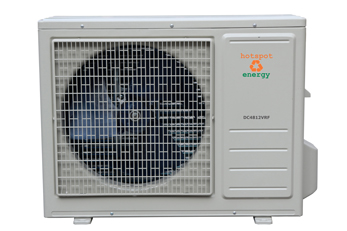 Outdoor Unit (ODU)
HotSpot Energy - ACDC12C, Solar Air Conditioner/ Heater (12,000 BTU)
SKU:
 ACDC12C
Connect Three Or More Panels (>/= Total 870W) Runs On Solar Power Only or Solar & AC Power 12,000 BTU Cooling & Heating
Plug-And-Play Solar Connection
No Batteries or Grid/AC Required
Keep the inside cool all day for next to nothing
in energy costs. Preventing daytime heat build-up also cuts evening cooling costs. Cool or heat up to 750 Sq. Ft. (69m2).
International 
Compatible with all types of solar panels & 50Hz and 60Hz power, use it anywhere in the world.
Display shows DC/Solar power utilization. Shown in heating mode at setting 90 0F, no AC connected. Display visible only when unit is on.
Your air conditioner needs the most power when the sun is shining, a coincidence you can take advantage of with our ACDC12C solar air conditioner. It can keep an indoor area cool during the day for free, or for just pennies, at times when solar power is not sufficient to carry 100% of the load. Use this system to cool a small area or to augment a larger system.
Connect three (up to six) solar panels (290-360w per panel) in series. The unit can also connect to 220v (208v-240v) AC power for extra power during overcast conditions, transient clouds, or at night. No need for batteries. Even when the sun is not shining at all, with an AC connection this ultra high-efficiency (SEER 22 without solar) heat pump will keep you comfortable and save you money using far less electricity than a normal AC or heat pump unit of the same capacity. Calculated using only paid-for energy, the ACDC12C produces an equivalent SEER above SEER 75.
This Product does not include Tax and shipping costs. International shipping is subject to regulations and Import Taxation of Country of destination.
AMRtechnologies Inc. Solar & Electrical Systems
Tel:

 

(+506) 7037-8077 or Toll Free: 1(800) 2130227
Solar Systems in United States & Latin America
www.AMRtechsolar.com