Due to global supply chain constraints lead times for shipments may be delayed. We are actively working with our suppliers to mitigate shortages and improve lead times. If you have questions, please contact your AMRtechnologiesInc. representative at 1-800-213-0227 or submit your question AMRtechsolar@gmail.com
Hot Spot Energy-DC Air Conditioner 12,000 BTU DC For Off-Grid Solar & Telecom Applications
12,000 BTU DC Air Conditioner For Off-Grid Solar & Telecom Applications
If your power source is native 48VDC (or -48VDC) as part of a telecom or off-grid solar application, DC4812VRF all-DC air conditioners are your most efficient cooling choice. DC48 air conditioners can substantially reduce power supply/generation costs and battery requirements. An all-DC system means you get the advantage of extreme high efficiency without the need for inverters.
The DC4812VRF is a purpose-built DC powered air conditioner heat pump for native DC power. It's designed to conserve power, and operate reliably for many years without maintenance.
SeaSpray Anti-Corrosion technology protects circuit boards, condenser, evaporator, compressor, and fan motors from salt air corrosion. SeaSpray is available beginning Q2 2014.
The DC4812VRF is a variable capacity, variable speed, variable refrigerant flow unit. There is no other solar or DC air conditioner like it on the market.
DC4812VRF
Solar / DC Off-Grid Air Conditioner 
Indoor Wall Mount Unit (IDU)


                                                Indoor Unit (IDU)

Stand-Alone or Complete Systems Including PV Panels, *Batteries, Mounting Hardware, Charge Controller. 
Complete Systems from $3995
Systems for 10,15,20 and 24 Hour Operation
All DC – No inverter Needed
Variable Speed & Capacity
SeaSpray Anti-Corrosion Technology
Heat Pump Unit Provides Cooling & Heating
Exceptionally Quiet Operation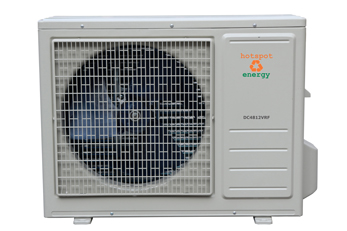 Outdoor Unit (ODU)
The image on the left is the DC4812VRF DC air conditioner Outdoor Unit (ODU). DC power from batteries connects directly to this unit.
Batteries are required to buffer and stabilize solar power, and for night time operation.
Category: DC Air Conditioner Systems (All-DC, for off-grid use)
DC VRF Air Conditioner Technology
DC4812VRF Air Conditioner Technology

Background

It starts with the compressor which uses 95% of the power consumed by an air conditioner. In all ultra-high efficiency AC-powered mini-split units, household electricity enters the air conditioner and passes through a rectifier, a component that converts the incoming Alternating Current (AC) to Direct Current (DC). The DC current passes through a frequency driver which applies power to the motor. The frequency of the power determines the output of the motor, which can be digitally managed to precisely control the motors speed. Because DC power can be used more efficiently, all of the highest efficiency AC-powered heat pumps and air conditioners on the market use DC powered compressors.

In an off-grid solar configuration where an AC-powered air conditioner is running from inverted solar power, the power is actually being converted twice. First, the native DC power from solar panels is inverted to AC by the inverter, and then the power is immediately converted back to DC after entering the air conditioner. Sound wasteful? It is, requiring more solar panels and more batteries as a result.
A key difference with our system – the DC4812VRF unit skips all of these conversions and uses the DC power directly without conversion loss.



DC VRF Solution

In addition to avoiding the cost and power loss of an inverter, our system is engineered from the ground up for use with solar. Special electronics anticipate and smoothly handle voltage fluctuations of up to 38% without affecting the operation. In addition to the compressor and control circuits, all other electrical components are DC powered including high efficiency DC fan motors, DC valves & solenoids, etc. There are no inverters used inside the system.
The brushless DC compressor and fan motors we use provide a "soft-start" which means that the typical startup surge of an AC air conditioner running on an inverter is eliminated. A normal air conditioner will draw up to 500% more amps on startup, meaning that when running on an inverter, the inverter must be oversized accordingly. Oversized inverters are much less efficient. The DC motors and controls used in the DC4812VRF system not only avoid needing an inverter, they also minimize the surge or spike at time of startup.



DC VRF Compressor

The system uses a VRF (Variable Refrigerant Flow) controller and frequency driver in conjunction with multiple sensors and an algorithmic control circuit to raise and lower the units capacity in real time based on conditions as they change. The VRF controller manages the compressor speed, refrigerant flow, fan speed, etc., which can all be precisely matched to the immediate cooling requirements. As the set-point is closely approached, the system will lower its capacity and power consumption, running at a very low energy draw as needed to maintain proper temperature rather than overshooting the set-point and then cycling on and off like a standard air conditioner. Not including the avoided DC to AC to DC power conversion losses, the VRF feature alone saves 30-40% compared to a standard air conditioner.
The DC4812VRF air conditioner uses a neodymium permanent-magnet Brushless Direct Current (BLDC) hermetically sealed motor and compressor with high performance windings, similar to the technology used in the worlds highest efficiency air conditioners. This particular compressor is made for us by the same manufacturer that makes high efficiency compressors for Fujitsu, Carrier, Toshiba, and LG.

Considering the high cost of solar panels and batteries, it is crucial in an off-grid solar situation to make the absolute best use of every watt of power. That's where the DC4812VRF air conditioner proves its value by operating with the lowest possible amount of DC power consumption.
This Product does not include Tax and shipping costs. International shipping is subject to regulations and Import Taxation of Country of destination.
AMRtechnologies Inc. Solar & Electrical Systems
Tel:

 

(+506) 7037-8077 or Toll Free: 1(800) 2130227
Solar Systems in United States & Latin America
www.AMRtechsolar.com