Due to global supply chain constraints lead times for shipments may be delayed. We are actively working with our suppliers to mitigate shortages and improve lead times. If you have questions, please contact your AMRtechnologiesInc. representative at
HOTSPOT ENERGY-ULTRA HIGH EFFICIENCY SMALL AIR COOLED CHILLER
CX34 Chiller ODU up to 2 Tons Cooling, 3 Tons Heating DC Inverter Compressor, includes VSD Pump
CX34 Air-To-Water Heat Pump 2 Tons Cooling / 3 Tons heating IPLV Cooling 26,150 BTU COP 6.75 EER 23.02 NPLV Cooling 30,049 BTU COP 9.0 EER 30.7 Heating 33,813 BTU COP 3.92
 Perfect as a residential chiller, the CX34 can be "stacked" to create 2,4,or 6 ton systems. The CX34 system can be configured as ductless heat pump chiller with hydronic fan coil units, or can be set up as a small central heat pump chiller system using hydronic air handler units available from various manufacturers. Or use it for floor heating, or any combination of these methods mentioned above.
 What is a chiller? There are many misconceptions about chillers - to be clear, the Chiltrix system is an R410a air cooled system and does not consume any water, and does not need a cooling tower. It dehumidifies just like a normal air conditioner and does not add water to the air. It is a hydronic heating and cooling system which means that the outdoor unit connects to the indoor units via insulated hydronic lines (water lines) - this is what defines a "chiller". In the case of Chiltrix, the unit is a reverse-cycle chiller, meaning that it is a heat pump and can run in either cooling or heating mode as the case may be. All of the refrigeration components such as compressor, evaporator, condenser, expansion valves etc. are located in a self-contained outside unit. The outside unit connects to one or more indoor units by water lines.
2-Ton Modular Air-To-Water Heat Pump Chiller w/ 2, 4, 6+ Ton Configurations


•

Use up to 8 Indoor Units per CX34


•

 

Also works with ducted system AHUs
•

 

Works with Radiant Heating (or cooling)


•

 

Also Makes Domestic Hot Water

Heating & Cooling Efficiency: A record-setting cooling IPLV EER of 23 and a industry-leading heating COP of 3.92, it has the lowest kW per BTU rating on the market.

The CX34 is an ultra-efficient small reverse-cycle chiller heat pump air conditioner - ideal for home, office, or server room. It's not directly solar powered but since it uses less electrical energy per BTU than any any similar size system, it is perfect for solar or any expensive power.
No vacuum pump, no gauges, and no special skills needed to install. No lineset limitations. 26,000
CX34 Small Heat Pump Chiller
Heating & Cooling For Home or Office
 

3 Tons Heating / 2.0 Tons Cooling


Stackable to create systems of 2 ,4, 6 Tons, etc
IPLV 26,150 BTU Cooling / 33,813 BTU Heating


IPLV EER 23

Flexible Design Options:
Mini-split / Ductless, Central Ducted, or
Integration w/ Floor Heat, Boiler or Solar Thermal


CX34 Outdoor Unit (ODU)

Ultra-High Efficiency -  Can use less power than a 30 SEER Heat Pump.

 

AHRI-Certified.
Connect up to 8 indoor units.
Low Ambient Ducted or Ductless (Mini-Split) Heat Pump Air Conditioner Chiller
Highest Efficiency Heating and Cooling
 Up to 8 indoor units can connect to a single CX34. It also has options to easily connect to ducted/central systems, boilers, and hydronic / radiant heating systems.
Indoor Unit (IDU)
Options

Low-Mid Wall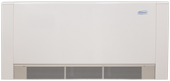 Super quiet low wall or floor unit above. Shown with leg kit below.
Floor - Free Standing

High Wall

The HW72 high-wall fan coil unit looks like a standard mini-split indoor unit. This unit is designed for a chiller, includes remote control. 208-240v 50/60 Hz AC motor.
Ceiling

Chiltrix DC-Inverter Ultra-Thin CX series FCUs are built for universal mounting, they can mount on the ceiling, wall, or floor.
For Ducted Systems: Chiltrix is compatible with most standard hydronic air handler including FirstCo shown below. Consult with us for sizing and compatibility.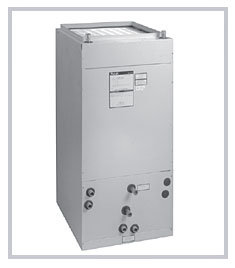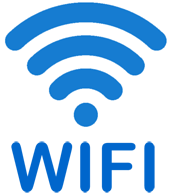 Optional Programmable WiFi
FCU Controller is compatible w/ all
CXI-series DC Motor FCU Fan Coil Units
(5) Five Sizes Availablefrom 1/4 ton to 1-1/4 ton
Low-Mid Wall FCU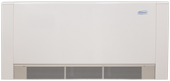 Super quiet DC motor low wall or floor fan coil unit above can be configured for WiFi control. Shown with leg kit below.
Floor - Free Standing FCU

Ceiling Mount FCU

Chiltrix DC-Inverter Ultra-Thin CXI-series FCUs are built for universal mounting.
These WiFi-capable DC motor fan coil units can mount on the ceiling, wall, or floor. All FCU control functions can be managed remotely using a free smartphone APP.
We used every trick in the book and then some to create the Chiltrix heat pump chiller. This is the AHRI-Certified small heat pump unit of the future that is very easy to install and eliminates all lineset length issues. Cooling or heating is transported via simple water/glycol lines. The outdoor unit is completely self-contained. Just add power and connect the water lines. The indoor units are also very simple to install, just add power, connect the water lines, and connect a condensation drain line.  The CXI series DC-Inverter fan coil units are the quietest fan coil units on the market. Shown to the right are various indoor unit options, available in various sizes from ~1/4 ton (3,400 BTU) up to 1 ton (12,000 BTU). Larger indoor units can be special ordered. 
| | |
| --- | --- |
| | FREE WATER  HEATING!   Get up to 70% of your annual water heating energy for free. |
 

Psychrologix™

 

Controller

 

offers DHC (Dynamic Humidity Control) function to dynamically control humidity and operate the chiller well above its already high IPLV efficiency rating.  Controller dynamically manages compressor speed, pump speed, fan speed, loop temperature, and more. Includes many automated chiller control functions.

Dynamic Outdoor
Heating Reset

Allows the CX34 to Operate
Above Official Heating COP Ratings.
See Outdoor Reset Control
Anti-Corrosion technology is used on all outdoor units, protects against salt air in coastal environments. 
Psychrologix™ Advanced Chiller Controller
Programmable Chiller Automation w/ DHC (Dynamic Humidity Control)
Psychrometric Controller
PATENT PENDING   
The Psychrologix™ chiller controller is ideal for homes, small business, or server-room cooling applications where tight humidity control and increased efficiency is required.

The controller manages humidity, efficiency optimization, alarms, automatic switchover from cooling to heating, summer and winter vacation modes, and more.

Controls up to three chillers either in lead-lag or combined as a single larger chiller.

 

Psychrologix™ Psychrometric Controller w/ DHC

Chiltrix small air cooled chillers with Psychrologix™ control use a unique psychrometric controls approach coupled with variable speed compressors, variable speed pumps,  variable speed fans, etc. The Chiltrix chillers match their capacity to the load so precisely that often buffer tanks are not needed. Not only is capacity matched in real time, but the parameters are continuously adjusted in response to conditions. For example, when more dehumidification is needed, the Psychrologix™ DHC controller lowers the indoor unit coil temperature to remove more humidity. When humidity is under control, the system raises the coil temperature to a more energy efficient temperature that still provides the needed cooling, but does not remove as much humidity, or may at times remove no humidity at all if humidity is already low enough.
Humidity removal (dehumidification, or latent heat removal) is very energy intensive and consumes a large part of the total energy used by an air conditioner. When needed, dehumidification is a good thing and the Chiltrix chillers do an outstanding job of humidity removal. Chiltrix chillers with psychrometric controls can also automatically perform hyper-dehumidification by increasing humidity removal to levels that surpass those of a normal chiller or air conditioner, if needed, to deal with extra high humidity.
Humidity does not pass through walls like heat, it requires an air flow from a more humid area, like for example, a door opening to the outside on a humid day, or an internal source such as a steamy hot shower or people exercising, etc. Once indoor humidity is under control and within the user-defined range, humidity should remain low for extended periods without additional dehumidification unless additional humidity is introduced into the space. During periods when humidity is in range, the Psychrologix™ DHC controller will automatically adjust the chiller parameters to provide thermostat cooling, but not provide dehumidification. Turning off dehumidification saves a very large amount of energy when conditions allow.
Simplified Efficiency & Humidity Example::
The CX34 IPLV EER, at the industry standard chiller loop temperature of 44F, is around EER 23, exceptionally high when compared to standard systems. However, when humidity is under the set limit, there is no need to operate the loop at 44F when at 55F, thermostat temperature settings can still be maintained, and average efficiency rises to ~EER 30 or higher. So when indoor humidity is under the user-defined limit, the Psychrologix™ controller allows the system to run at a more efficient temperature. In some cases, the loop may be adjusted as high as 62F producing average EER as high as EER 34. And likewise, if humidity is particularly high, the system loop may be dropped as low as 40F to perform hyper-dehumidification. In this manner, both system efficiency and humidity are dynamically controlled.
Bottom Line - The Chiltrix chiller is the most energy efficient heating and cooling option you will find, with the highest IPLV rating in the market, even without the Psychrologix™/DHC. But with DHC running, efficiency can at times be more than 47% higher than the IPLV rating.
Note - the Psychrologix™ controller is not a thermostat - it is a programmable psychrometric chiller controller. Thermostat settings are still made in the usual way, either set individually at each room fan coil unit, or in the case of a ducted system, by a standard central thermostat.
High cost power got you down? This system can use less power than what a SEER 30 system would use. It's perfect for high cost power locations or solar applications and for any home owner or small business that wants to provide reliable and low cost cooling and heating.
COOLING: What makes an ultra-efficient air conditioner? . What really makes an air conditioner stand out is how it performs under part-load conditions, which is the strength of chiller systems in general and an area where the Chiltrix chillers beat the competition. The CX34 has an AHRI-Certified IPLV of EER 23, this means that the average rated efficiency in cooling mode is 675% (COP 6.75)
HEATING: The CX34 is well above average with up to 392% (COP 3.92) heating efficiency. 
CX34 replaces CX30. Specifications subject to change without notice. Images are representative only.
Fan Coil Units For Chiller Air Conditioner & Hydronic Heating & Cooling - Ductless
Ultra-Slim 5.1" Ceiling Mount DC-Inverter Fan Coil Units.
Ultra High Efficiency Fan Coil Units w/ DC Inverter Fan Motors

DC-Inverter fan motors run more efficiently and use less power than regular fan motors. Additionally, they are far quieter than a standard fan unit, you can hardly hear them running. And using a hermetically sealed fan motor means years of trouble free service because dust, salts, acids, and moisture cannot get inside. Did we mention more efficient? DC-Inverter fan motors use up to 75% less electricity to do the same job. Chiltrix Ultra-Slim DC-Inverter CXI FCUs are 110-130V 60Hz.
Chiltrix DC Inverter Fan Coil Units
Chiltrix
Cooling
Heating
Water
Head
Air CFM
dB
dB
Power
Power
Net
Shipping
Model
BTU
BTU
GPM
Loss (Ft.)
Volume
High 
Low
Watts
High
Supply
Dimensions Inches
Dimensions Inches
 
 
 
 
 
 
 
 
 
 
 
 
CXI120
11,877
9,727
2.4
9.3
340
39
28
22
115v 50/60Hz
51.2W x 5.1D x 26.4H
52.8W x 7,1D x 28.7H
CXI85
8,498
8,079
1.8
9.2
270
37
28
21
115v 50/60Hz
43.3W x 51.D x 26.4H
44.9W x 7.1D x 28.7H
CXI65
6,451
5,666
1.6
4.4
188
32
27
18
115v 50/60Hz
35.4W x 5.1D x 26.4H
37.0W x 7.1D x 28.7H
CXI34
3,379
3,347
1.2
3.6
94
30
24
14
115v 60Hz
27.6W x 5.1D x 26.4H
29.1W x 7.1D x 28.7H
HW72
7,200
8,640
1.9
5.1
512
46
35
40
220 50/60Hz
31W x 9D x  11H
36W x 15D x 11H
Ducted Hydronic Air Handlers
VMB 8
18,600
21,600
4.5
6.5
800
NA
NA
547
120v 50/60 Hz
20W x 21Dx40
NA/TBD
VMB 12
27,900
32,200
6.7
5.7
1200
NA
NA
832
120v 50/60 Hz
23W x 20Dx42
NA/TBD
VMB 16
39,100
44,400
9.25
7.9
1600
NA
NA
1197
120v 50/60 Hz
28W x 21.25Dx48
NA/TBD
VMB 20
43,100
49,500
10.31
8.7
1825
NA
NA
1311
120v /50/60 Hz
28W x 21.25Dx48
NA/TBD
*Note VMB units require a 0-10v thermostat such as Honeywell T7350D, TB7980B1005, etc.
*CXI values listed are at maximum and vary based on configuration, HW72 is rated at 54F EWT. CXI-148 is a Special Order Item Call to confirm availability.

Internal water volumes of CXI: CXI-34=1.03L ,CXI-65=1.94L, CXI-85=2.86L, CXI-120=3.79L
The Chiltrix CXI-series FCUs are the thinnest and quietest ductless chiller fan coil units available. They also use far less electricity to operate than any standard fan coil unit. The HW series is a standard high wall design of standard efficiency. The Chiltrix CX-series chiller heat pump units can work with nearly any brand of fan coil unit, ducted or ductless, as well as hydronic in-floor systems.

Central Ducted Hydronic Systems:
Ducted forced air systems are less efficient than ductless fan coil units due to static pressure drop and duct thermal loss. Ducted systems require a centralized thermostat,and cannot take advantage of individual zones in each room like a ductless system. In new construction, or when adding air conditioning to a building that has no current duct system, the installed cost of a ductless system will be about the same, or less than, installing with a duct system. However, if a central ducted system is your best choice, the Chiltrix system combined with a FirstCo DC-Inverter powered VMB will be your most efficient choice.

About DC Inverter Fan Motor Technology
Whether it is used for a compressor, a pump, or a fan motor, DC Inverter motors are well known for being more efficient. They also run cooler, last longer, and produce a much lower sound level.
DC Inverter motors have no actual inverter in them, AC power runs through a rectifier circuit converting it to DC power. The DC power is then pulsed in varying frequencies to rotate the motor. The higher the pulse frequency, the faster the motor turns.
DC inverter motors are not only up to 20-40% more efficient at a given speed, they also provide the ability to efficiently match the motor speed to the real-time demand saving even more energy.
Below is the latent heat rejection table for CXI ductless fan coil units based on standard AHRI test condition W44F, 80FdB / 67FwB.
| | | |
| --- | --- | --- |
| Model | Moisture Removal (L/h) | Sensible Heat Ratio |
| CXI-34 | 0.38 | 74% |
| CXI-65 | 0.68 | 75% |
| CXI-85 | 0.85 | 77% |
| CXI-120 | 1.32 | 74% |

Above at max speed.
| | | | | |
| --- | --- | --- | --- | --- |
| CXI Fan Speed CFM  | CXI-34 | CXI-65 | CXI-85 | CXI-120 |
| Air volume(H) | 94.2 | 188.3 | 270.7 | 341.4 |
| Air volume(M) | 64.7 | 129.5 | 194.2 | 241.3 |
| Air volume(L) | 53.0 | 107.1 | 158.9 | 200.1 |
This Product does not include Tax and shipping costs. International shipping is subject to regulations and Import Taxation of Country of destination.
AMRtechnologies Inc. Solar & Electrical Systems
Tel: (+506) 7037-8077 or Toll Free: 1(800) 2130227
Solar Systems in United States & Latin America
www.AMRtechsolar.com