Due to global supply chain constraints lead times for shipments may be delayed. We are actively working with our suppliers to mitigate shortages and improve lead times. If you have questions, please contact your AMRtechnologiesInc. representative at 1-800-213-0227 or submit your question AMRtechsolar@gmail.com

Joolca-HOTTAP V2 Essentials Portable Hot Water Kit
Enjoy a hot shower in the bush
 HOTTAP Essentials Kit  
Wherever you can take a propane bottle, you can take the HOTTAP. It's the world's smallest water heater in its class. And enjoying a HOTTAP shower is as easy as flipping a switch. 
Use it your way.
The new HOTTAP Comes with a modular showerhead that can be used handheld or turned into a ceiling-mounted shower with the switch on the wall.
Simply flick the switch and the hot water starts flowing. It's also got a faucet attachment for use with a sink, included in your Nomad Kit.
Taps into any water source
Use your HOTTAP with a jerry can or throw the sturdy two-stage water filter into the nearest creek or lake and pump water up to 100ft to your campsite.
Meet HOTTAP V2
Built to home standards, HOTTAP features class-leading specs throughout. It's actually a real, hot shower – with over 15h run time on a single gas tank. Even in winter, HOTTAP's 37,500-BTU burner will give you a steaming hot shower at the flick of a switch. And with up to 1.6GPM of flow, it'll get through any head of hair.
Joolca pump specifications
Information on specifications and size of the Joolca pump. 
| | |
| --- | --- |
| Self-priming height: | 1.8m  |
| Open flow: | 6 LPM (1.6 GPM) |
| Volts: | 12.0V DC |
| Max pressure: | 60 PSI |
| Duty cycle: | Intermittent  |
| Max amps: | 5.8A |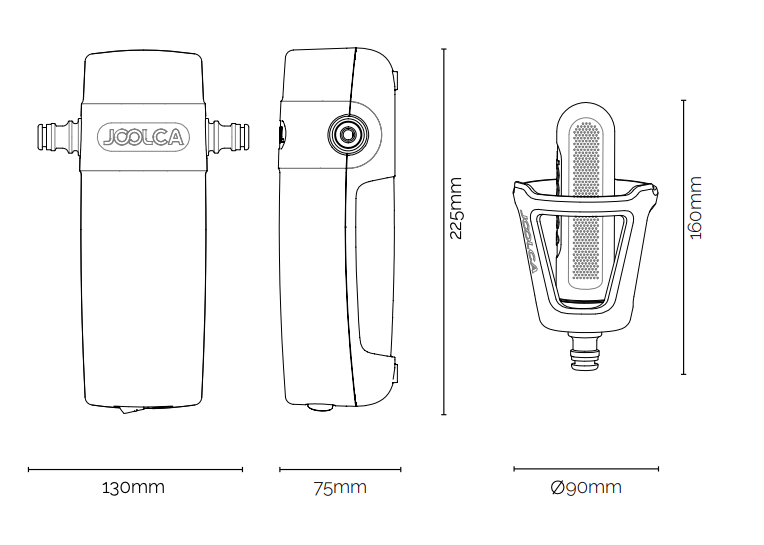 HOTTAP runs on two D-cell batteries. The batteries supply power to the ignition and LED monitor, and will last 3-6 months (depending on use). 
One D-cell battery supplies between 1.5V (standard) to 1.6V (heavy duty), so the two D-cell batteries supply 3.0-3.2V to the HOTTAP.
Your HOTTAP comes with a set of batteries included in the box. 
Push on the battery box to release the compartment.
Insert 2x D Cell batteries as per the diagram.
Re-insert the compartment, push until it clicks into place.
What happens when the batteries go flat
Once the combined voltage of the D-cell batteries drops below 2.1V (e.g., after using the HOTTAP for 6 months) then your HOTTAP will not ignite. 
Either:
Your HOTTAP will not turn on at all, or
Your LED monitor will turn on, but you will not get any ignition.
To avoid getting stuck without hot water, keep a spare set of D-cell batteries with your HOTTAP.
Which D-cell batteries should I use
You can use both standard (1.5V) and heavy duty (1.6V) D-cell batteries with your HOTTAP. As D-cell batteries are a universal (physical) size, you can use any brand.
What to do when storing the HOTTAP
When storing the HOTTAP for long periods of time, remove the batteries from the battery box. This will avoid the batteries discharging.
Powering HOTTAP with a DC to DC converter
You can use a DC to DC step down voltage converter, and wire it directly into the positive and negative leads that run into your battery box.
Using a star-head screw driver, remove the four screws that hold the battery box in the HOTTAP. 
Remove the positive and negative leads from the battery box. The leads are crimped on and can be pulled off using pliers.
Crimp or solder the positive and negative wires to your DC to DC converter.
Run your DC to DC converter to your power supply.
Make sure to get a suitable DC to DC step down voltage converter that will work with your power source (e.g., a 12.0V battery) and that can output 3.0V (what the HOTTAP needs).
Example: A DC to DC converter that converts 6-28V down to 3-15V.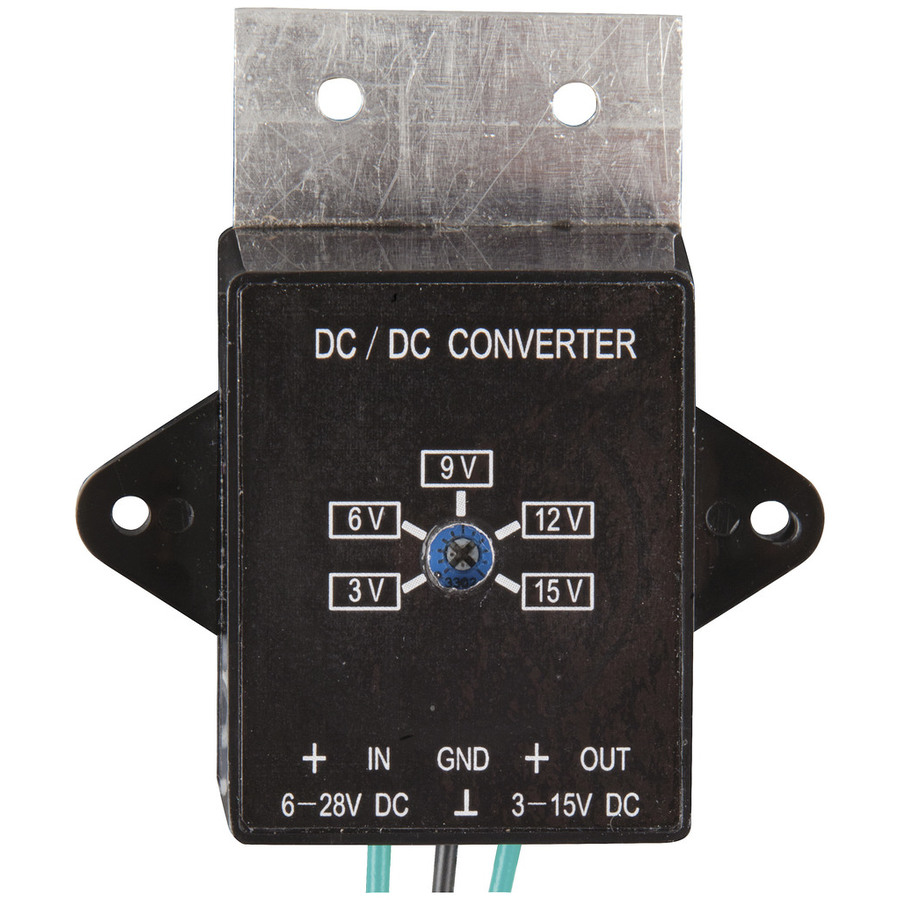 This Product does not include Tax and shipping costs. International shipping is subject to regulations and Import Taxation of Country of destination. 

AMRtechnologies Inc. Solar & Electrical Systems
Tel:

 

(+506) 7037-8077 or Toll Free: 1(800) 2130227
Solar Systems in United States & Latin America
www.AMRtechsolar.com