Due to global supply chain constraints lead times for shipments may be delayed. We are actively working with our suppliers to mitigate shortages and improve lead times. If you have questions, please contact your AMRtechnologiesInc. representative at 1-800-213-0227 or submit your question AMRtechsolar@gmail.com
FLEX Custom Modules
 Costs hover around $3.50 per watt
FLEX Custom Modules
The FLEX Series module is a CIGS based flexible thin-film PV module that provides high power density for many types of applications. The panels are the highest efficiency, flexible, thin-film product on the market today, with >17% cell efficiency.
The FLEX Series module bonds to surfaces with a simple peel-and-stick adhesive. This adhesive approach provides significant benefits such as superior wind resistance, a seamless low-profile look and eliminating the need for racking or penetrations into the surface. The FLEX Series module is IEC 61646 & IEC 61730, UL 1703 and Class A over TPO: Slope 2.5:12 certified.
The modules also have an enhanced uniform dark color scheme throughout obtained through specially engineered material upgrades.
These modules provide customers the following significant benefits:
Low weight
Shatterproof
No surface penetrations, eliminating the worry of leakage and damage
An aesthetically pleasing solar solution, blending into the structure surfae
Superior wind resistance and a seismic advantage over silicon where their higher profile and breakable nature increases the likelihood of damage in a hurricane or earthquake
Customizable for all possibilities and the highest efficiency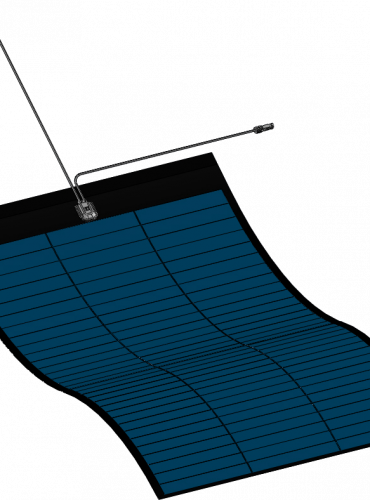 FLEX Custom Product Features
| | |
| --- | --- |
| Available Widths | 363 mm, 677 mm, 993 mm, 1293 mm |
| Available Lengths | 1525 mm, other custom lengths possible |
| Power class | 72W-288W or higher |
| Vmpp ranges | 16Vˆ19V, 32Vˆ38V, 48Vˆ 57V, 64Vˆ76V |
| Aperture Efficiency | 17.5% |
| Certifications | IEC 61646, IEC 61730 |
| Warranty | 10 year power, 5 year workmanship |
| Charge Controller Compatibility | Compatible with most battery charge controllers for standard 12v, 24v, 36v and 48v battery charging applications. |
Target applications
Transportation: truck, RV, van, car, boat, etc.
Off-grid battery charging
Specialty architecture
This Product does not include Tax and shipping costs. International shipping is subject to regulations and Import Taxation of Country of destination.
AMRtechnologies Inc. Solar & Electrical Systems
Tel: (+506) 7037-8077 or Toll Free: 1(800) 2130227
Solar Systems in United States & Latin America
www.AMRtechsolar.com