Due to global supply chain constraints lead times for shipments may be delayed. We are actively working with our suppliers to mitigate shortages and improve lead times. If you have questions, please contact your AMRtechnologiesInc. representative at 1-800-213-0227 or submit your question AMRtechsolar@gmail.com
RPS AIR-ation Kits -Solar Pond Aeration System with Brushless Solar Air Compressor- size AIR200 kit
America's #1 Most Trusted Solar-Powered Water Pump
RPS Solar Pump Kits are for people that believe in getting the job done themselves, and getting it done right. Our goal is to arm you with the equipment and knowledge to take control of your water and save a fistful of money doing it.

Our RPS engineers spent all year developing a solar powered air compressor kit that is now the most unique technology we've found anywhere on the internet to aerate your pond! Easily assembled and installed by one person in a single weekend, lifting no more than 18 lbs at a time. The solar powered air compressor pushes oxygen through a weighted hose down to a bubbling air stone, aerating multiple pond thermoclines with fresh O2. Supported for pond bottoms up to 15 feet deep. For ponds deeper than 15 feet, you can float the air stone at 15 feet and still get great aeration. 
Don't worry about noise, this is a SUPER quiet compressor as we've added an air intake muffler. We've measured that the muffler reduces noise down to 65 decibels, about as loud as a restaurant conversation.  

RUNTIME UPGRADE KIT: AIR 200 vs AIR 400 
If you're worried about bad weather interrupting aeration, RPS offers the option of adding two additional solar panels. Upgrading from two 100W solar panels to four 100W solar panels will extend hours of performance and improve performance during overcast days.  
The RPS AIR Kit Contains....
RPS 100 Watt Rugged Aluminum Framed Mono-Crystalline Solar Panels (Dimensions are roughly 3.75' long, 1.6' wide and a little more than 1" thick). 2x100W Air200, 4x100W Air400. 

RPS Air Compressor with DC Brushless Motor

RPS Universal Controller 

1/2 inch hose barb 

20 feet of solar wire

50 feet Weighted aerator hose, 

⅜ inch ID




Weighted bubbling air stone 

25 feet of 16 Gauge, 3 Strand pump wire

Detailed full-color solar pump guide with step-by-step install instructions

Access to RPS video archives of installation tips & product walkthroughs

30 Day Money-Back & 100% Water Assurance Guarantee

Field Serviceable and Rebuildable

2 Year Comprehensive Warranty

Phone / Email / Text Support from Friendly USA based RPS Engineers
Solar panel mounting is not included in the standard AIR kit, you can purchase one of our easy-to-install 
The compressor should be protected from the elements with some sort of cover, customer provided.  
Features of RPS Controllers


Multiple Sensor Inputs 




Variable Frequency Control with MPPT




Cycling Protection Timer 




Exterior Shut-off Switch

Features of RPS Pumps

Slow Start/Stop for Longevity




Brushless Motor Technology 




Serviceable in the Field 



Gallons Per Day (GPD) for Solar Well Pumps
RPS 200
RPS800V
Pro 500V
Pro 1000V
Pro Lakemaker XL 3hp
Pro Lakemaker XL 5hp
Solar or Battery Backup
Direct Drive Solar or Generator
Direct Drive Solar or Generator
Direct Drive Solar or Generator
50ft Head

 

1,500
5,100
7,500
11,800
30,000
63,000
100ft Head

 

1,100
4,600
5,400
9,700
20,000
20,880
150ft Head

-
3,000
1,400
7,500
Custom
Custom
More than 150ft
-
-
-
Custom
Custom
Custom
* Gallons Per Day calculated using average of 6 hours/day solar. For Direct Drive Solar systems divide GPD by 360 to get GPM.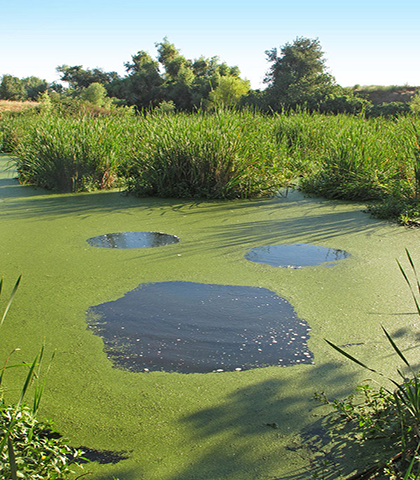 Owning a Pond Can Stink
More and more pond owners are switching to effortless (and quiet!) solar powered fountains for their aeration needs. The family should enjoy a day on the water without a noisy generator, pond scum, and stinky odors. With a solar fountain you'll experience…
Significant decrease in fish kill
Clean up of algae growth
A better swimming and recreation experience
No more monthly power bills!
A properly aerated pond can hold twice the amount of fish that a non-aerated pond could hold!
Our pump systems eliminate foul odors and keep fish alive by mixing the warm, stagnant top layer of your ponds' water with the cooler bottom layer. Even a simple aeration system helps to de-stratify the temperature gradients (thermoclines) in the pond. If pond health is really bad, chemicals may be needed on top of aeration. In moderate climates without hard freezing, fountains can be used year round, though aeration isn't as important in the winter as dissolved oxygen levels are naturally higher during that time. Circulation from aeration can maintain a small area of unfrozen pond in the winter!
Fountain Sizing and pricing is based on the dimensions and depth of your pond, fish populations, and your solar zone
If your pond is oddly shaped or multiple acres wide, you may need more than one pump for aeration.
With the rising cost of grid power, more and more ponds are being filled and maintained with solar-powered pumps. We only use brushless motors for use filling, maintaining and aerating ponds, as the pump will be running all day every day.
We like to consider Fountain Aeration as preventative maintenance when talking about organic material (weeds, muck, algae, etc). An aeration based management strategy will..
Gets Rid of Pond Muck: Aeration cuts the nutrient load in pond muck and other decomposing debris. It does this by increasing oxygen and water movement which introduces more oxygen and helps to encourage the colonization of beneficial aerobic bacteria. These bacteria are responsible for digesting and preventing muck and nutrient accumulation.
Erases Thermocline: Aeration circulates the water and eliminates thermocline, which is a stratified layer of water between the warmer, surface zone and the colder, deep-water zone. Bottom diffuser aeration churns and mixes those temperature layers. The tiny air bubbles force the cooler oxygen-starved water to the pond's surface where it becomes infused with O2. The warmer, oxygen-rich water then drops down, fueling the beneficial bacteria.
Higher Water Quality: By reducing the pond muck, increasing oxygen and circulating the water column, your water quality will improve. You'll see less organic debris, clearer water, and happier fish. Perfect for a swim.
Increases Oxygen Levels: Beneath the waters surface, a diffuser plate like the AIR200 release tiny bubbles of oxygen. They disperse and circulate throughout the water column, providing life-sustaining O2 to beneficial bacteria, fish and submerged plants.
Reduces Fishkill: Aeration also protects your game fish in the winter. As organic debris decomposes in your pond, gases are released into the water column. These gases become trapped when your pond freezes over, which reduces the amount of oxygen available to aquatic life. If enough oxygen is displaced, your fish will suffocate. An aerator infuses fresh O2 into the water while maintaining a hole in the ice for gas exchange.
This Product does not include Tax and shipping costs. International shipping is subject to regulations and Import Taxation of Country of destination.
AMRtechnologies Inc. Solar & Electrical Systems
Tel:

 

(+506) 7037-8077 or Toll Free: 1(800) 2130227
Solar Systems in United States & Latin America
www.AMRtechsolar.com