Due to global supply chain constraints lead times for shipments may be delayed. We are actively working with our suppliers to mitigate shortages and improve lead times. If you have questions, please contact your AMRtechnologiesInc. representative at 1-800-213-0227 or submit your question AMRtechsolar@gmail.com
 Solopower Systems Solopower SP1-70 70W 22V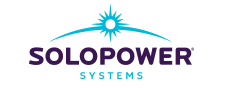 Solopower SP1-70 70 Watt 22 Volt Thin & Lightweight CIGS Solar Panel - SoloPanel with MC4 Cable Connectors
This is a very rare SoloPower SP1 Series 70 Watt Flexible Thin Film CIGS Solar Panel that is designed for rooftop applications. The flexible, lightweight form factor of the SP1 series solar panel enables rapid and easy installation as well as low cost system integration with a wide variety of mounting solutions.
Electrical Characteristics
Peak Stats at 100% Factory-Perfect Simulated Sun
Maximum Power 70W
Maximum Power Voltage 22.2 V
Maximum Power Current 3.40 A
Open Circuit Voltage 30.0 V
Short Circuit Current 4.20 A
Max Series Fuse 7A
Physical Characteristics
Length 7.2 Feet (86.5 in / 2.197 m)
Width 1.3 Feet (15.7 in / 0.398 m)
Thickness 0.1 in / 2.0 mm
Weight 4.6 lbs / 2.1 kg
Roof Load From Module 0.49 lbs/ft2 / 2.4 kg/m2
MC4 Connectors on opposite ends of the panel
Rolled Diameter: 10-12 Inches
This Product does not include Tax and shipping costs. International shipping is subject to regulations and Import Taxation of Country of destination.
AMRtechnologies Inc. Solar & Electrical Systems
Tel: (+506) 7037-8077 or Toll Free: 1(800) 2130227
Solar Systems in United States & Latin America
www.AMRtechsolar.com