Due to global supply chain constraints lead times for shipments may be delayed. We are actively working with our suppliers to mitigate shortages and improve lead times. If you have questions, please contact your AMRtechnologiesInc. representative at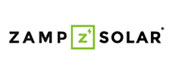 Zamp Solar- ZSK1010 90W Obsidian Roof Solar Panel Kit for Airstream
Zamp Solar® ZSK1008 90W Solar Kit from Obsidian® series offers a 90W solar panel, 30% lighter than traditional panels and .67" thin. It is ideal for use with RVs, boats or trailers.
Features:
High efficiency monocrystalline solar cells
Tempered glass laminate
Ultra-low aerodynamic profile 
Sleek black anodized aluminum frame.
Anti-reflective glass ensures maximum light absorption and protects from harsh weather conditions. The panel works with any 12V battery. It is plug-and-play compatible with Solar Ready RVs (a wire or adapter may be required for installation). Mounting options: surface or roof mount.
90-watt solar panels can be paired with
  Zap Kit5006 15-Amp integration kit or Zap Kit5007 30-AMP integration kit

The ZSK1008 kit includes a 90-watt panel that measures 59.1" x 14.3" x .67" and weighs 10.2 lbs. It comes with a 10-ft wiring harness, stainless steel mounting hardware and low profile feet. 25-Year Output Warranty. Made in USA.
This Product does not include Tax and shipping costs. International shipping is subject to regulations and Import Taxation of Country of destination.
AMRtechnologies Inc. Solar & Electrical Systems
Tel: (+506) 7037-8077 or Toll Free: 1(800) 2130227
Solar Systems in United States & Latin America
www.AMRtechsolar.com