Due to global supply chain constraints lead times for shipments may be delayed. We are actively working with our suppliers to mitigate shortages and improve lead times. If you have questions, please contact your AMRtechnologiesInc. representative at
Zamp Solar-KIT1007 Deluxe L 90W Expandable Long Slim Solar Kit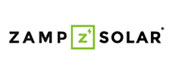 The KIT1007 90-Watt Deluxe L-Series Solar Kit from Zamp Solar® is specifically designed for narrow or curved surfaces, tight spaces and roofs of small RVs. It features a long slim solar panel that can be expanded up to 510-watts with Zamp KIT1010 (930x425, sold separately). The high efficiency solar panel with Grade A monocrystalline solar cells will provide 90-watt power output at 5 Amps. The kit also offers a 30 Amp 5-stage solar charge controller with LCD display and dual self-resetting circuit breakers. LED lights show charging status and battery condition. Anti-reflective coated glass ensures maximum light absorption. The anodized aluminum Omni-Mount frame is sturdy and durable.

The KIT1007 includes a 58.3"x13.6"x1.5" solar panel (14.25 lbs), solar charge controller, two circuit breakers, 3-port roof cap, pre-wired harnesses and mounting feet (mountable anywhere on the frame). US manufactured. 25-Year Output Warranty.
Warning: Do Not exceed 30 Amps. Example: Run up to FIVE 90W Zamp panels total with the use of a Y-Connector.
This Product does not include Tax and shipping costs. International shipping is subject to regulations and Import Taxation of Country of destination.
AMRtechnologies Inc. Solar & Electrical Systems
Tel: (+506) 7037-8077 or Toll Free: 1(800) 2130227
Solar Systems in United States & Latin America
www.AMRtechsolar.com