HOTSPOT ENERGY-2 Ton Air To Water Multi-Head Heat Pump

CX34 SMALL HEAT PUMP CHILLER HEATING & COOLING FOR HOME OR OFFICE
                                 3 TONS HEATING /2.0 TONS COOLING
Stackable to create systems of 2 ,4, 6 Tons, etc IPLV 26,150 BTU Cooling / 33,813 BTU Heating
We are Chiltrix Inc., a Virginia corporation and an affiliate under common control with HotSpot Energy Inc. Chiltrix is distributed in North America by HotSpot Energy Inc.
ultra efficient air conditioning & heating water, small air to water ductless heat pump chillers
Flexible design options:Mini split/ ductless, central ducted, or intergration w/ floor heat, boiler or solar thermal
AHRI Certified connecting up to 8 indoor units
Indoor Unit (IDU) Options
       LOW MID WALL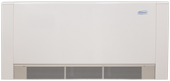 Floor - Free StandingSuper quiet low wall or floor unit above. Shown with leg kit below.High Wall 

     High Wall 

The HW72 high-wall fan coil unit looks like a standard mini-split indoorunit. This unit is designed for a chiller, includes remote control. 208-240v 50/60 Hz AC motor.
   Ceiling

Chiltrix DC-Inverter Ultra-Thin CX series FCUs are built for universal mounting, they can mount on the ceiling, wall, or floor.
For Ducted Systems: Chiltrix is compatible with most standard hydronic air handler including FirstCo shown below. Consult with us for sizing and compatibility.
 High cost power got you down? This system can use less power than what a SEER 30 system would use. It's perfect for high cost power locations or solar applications and for any home owner or small business that wants to provide reliable and low cost cooling and heating.
COOLING: What makes an ultra-efficient air conditioner? . What really makes an air conditioner stand out is how it performs under part-load conditions, which is the strength of chiller systems in general and an area where the Chiltrix chillers beat the competition. The CX34 has an AHRI-Certified IPLV of EER 23, this means that the average rated efficiency in cooling mode is 675% (COP 6.75)
AMRtechnologies Solar & Electrical Systems
Tel: (+506) 2438-3246 or (+506) 2438-3272
Toll Free: 1(800) 2130227
Solar Systems in United States & Latin America