MIDNITE SOLAR-MNBCM BATTERY CAPACITY METER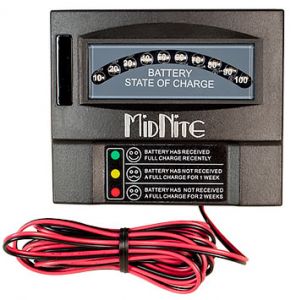 Midnite Solar MNBCM Battery Capacity Meter
MidNite Solar's battery capacity meter uses a set of easy-to-read LEDs to display present battery capacity.  The MNBCM battery capacity meter also features an extended charge status display that lets the user know how recently the battery was charged.  This battery meter is designed for a nominal input range of 12V to 48V (autosensing) with an accuracy rating of +/- .05 percent. 
Additional Features
Easy-to-read LED display corresponds to battery voltage
Auto sensing, compatible with a nominal input range of 12V to 48V.
Accuracy of +/- .05%
Made in the USA
MidNite Solar MNBCM Battery Capacity Meter (no switch)
NOTE: The battery capacity meter is designed to work with Gel batteries, AGM batteries and flooded lead acid batteries. There is a jumper inside the unit that must be set for the type of battery it will be used with.
NOTE: MidNite Solar also makes a version of this meter (MNBCMS) that has an on/off switch for the LED lights. It retains its memory but the lights won't draw any power from your battery. If you prefer a meter with a switch, please call or email us for ordering information.
The "S" version (MNBCMS) of the meter has an additional short wire attached. This wire is the "Switched lead." This feature allows the LEDs to be turned off while retaining the Battery Care memories. This wire should be connected through a fused switch to Battery positive. This is usually the ignition switch of a vehicle, but can also be any type of push button, or toggle switch.
MidNite Solar has a new battery capacity meter! It's probably the easiest to install and easier to read than any other battery meter. You simply connect the negative (-) and positive (+) wires from the meter to the battery terminals. The meter will go through a start-up test sequence when power is first applied. Once the test is complete, the meter is ready to use. Don't forget to use a 2 Amp fuse or circuit breaker on the positive wire. It's that simple!
Features:
Led's that correspond to battery voltage
Accuracy +- .05%
Auto sensing for 12, 24, 36, and 48 volt batteries
LED indicators show if batteries have received a full charge recently, longer than one week or longer than two weeks
This meter is rated for indoor use only.
5 year warranty.
AMRtechnologies Solar & Electrical Systems
Tel: (+506) 2438-3246 or (+506) 2438-3272
Toll Free: 1(800) 2130227
Solar Systems in United States & Latin America