Due to global supply chain constraints lead times for shipments may be delayed. We are actively working with our suppliers to mitigate shortages and improve lead times. If you have questions, please contact your AMRtechnologiesInc. representative at 1-800-213-0227 or submit your question AMRtechsolar@gmail.com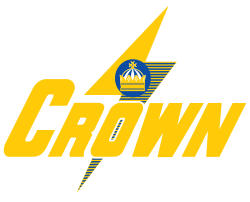 Crown Batteries- 6CRV330 AGM Battery, Group L16 6V 330AH
 Out of stock
6CRV330 (Crown 6CRV330 AGM Battery, Group L16 6V 330AH)
The Crown 6CRV330 Battery is a high-powered, quality battery, designed for deep cycle use in remote and mobile applications. Best suited for marine, RV and back up power systems, as well as commonly used in off-grid homes.
The CROWN1 Series contains the industry's most advanced technologies including Crowns modern solid-cast C.O.S. and cell construction, featuring heavier and more efficient current-carrying structures with unmatched uniformity and the best available protection from vibration. Each and every unit is capacity tested.
CROWN 6CRV330 Features:
Reserve Capacity: 215 / 75A
Capacity: 20 / 330 Ah
Grid plate Block battery
Valve regulated lead-acid batteries
Maintenance Free
BCI Group Size: L16 AGM Battery
Made in the US
CROWN 6CRV330 Specifications:
Length: 11.62 (in)
Width: 7.01 (in)
Height: 13.59 (in)
Weight: 103 lbs
Terminal: Standard
Voltage: 6 volts
Advantages of The CROWN1 Series: This deep cycle marine starting battery is a revolutionary next step in high-grade power solutions for marine, RV and back up power systems. Featuring full frame SolidCast grids constructed with more lead and uniform wire thickness across the grid structure to ensure a combination of long life and durability. Containing ultra high-strength glass mat separator utilizes advanced composites to absorb and distribute electrolyte and enables superior recovery from deep discharge cycling.
Warranty: Our Crown AGM batteries are covered under a one-year free replacement warranty directly through High-Tech Battery Solutions, Inc.
Crown Battery is a US based company, with corporate and manufacturing operations in Fremont, Ohio. With 12 sales offices and distribution facilities throughout North America, 550 employees and a network of authorized business partners. Consisting of a worldwide distribution channel throughout the Americas, Europe, Africa, Asian-Pacific, Australia and New Zealand.
This Product does not include Tax and shipping costs. International shipping is subject to regulations and Import Taxation of Country of destination.
AMRtechnologies Inc. Solar & Electrical Systems
Tel:

 

(+506) 7037-8077 or Toll Free: 1(800) 2130227
Solar Systems in United States & Latin America
www.AMRtechsolar.com