Due to global supply chain constraints lead times for shipments may be delayed. We are actively working with our suppliers to mitigate shortages and improve lead times. If you have questions, please contact your AMRtechnologiesInc. representative at 1-800-213-0227 or submit your question AMRtechsolar@gmail.com
Eco-Worthy-5000W Solar Hybrid Inverter Charger 48V DC to 120V-240V AC Split Phase Power Inverter
Description
·Parallel Supportable: It supports up to 6 units (30kw Max.) in parallel. It's capable of single-phase or split-phase parallel. that means, it can output 110V and 220V at the same time.
·Battery-Free Running: It can work without battery power input. Keep the load running continuously in the battery-free state and use PV DC current to power the inverter.
·Segmented Charing/Discharging: 3 output modes: mains priority and, battery priority, PV priority; uninterrupted power supply. Available in 4 charging modes: Only Solar, Mains Priority, Solar Priority and Mains & Solar hybrid charging. Set a flexible time period for mains charging/discharging according to the local mains condition, and help you save the mains.
·Technical Specifications: Max.PV input power:5500W, PV input voltage range: 120-500V DC, Max.MPPT Charging Current:80A, Rated Output Power:5000W, Max.Peak Power:10000W, Rated Output Voltage:120/240Vac(split phase/single phase).
·Easy & Safe Use: LCD display to monitor all data anytime. Multiple intelligent protections, such as PV input current/power limiting protection, PV input over-voltage, PV night reverse current protection, multiple cooling fans to prevent over-heat issue, etc.
Specifications
| | |
| --- | --- |
| AC Input Mode |   |
| Rated Input Voltage: 110/120VAC | Input Voltage Range: 90V-140VAC |
| Frequency: 50Hz/60Hz(auto detect) | Overload/Short Circuit Protection: Circuit breaker |
| Efficiency: >95% | AC Reverse Protection: Available |
| Max Bypass Overload Current: 40A |   |
| Invert Mode |   |
| Output Voltage Waveform: Pure Sine Wave | Rated Output Power: 5000W |
| Rated Output Voltage: 120VAC | Peak Power: 10000W |
| Bypass Breaker: 63A | Rated Battery Input Voltage: 48V |
| Min Starting Voltage: 44V | Power Saving Mode: Load ≤25W |
| AC Charging Mode |   |
| Battery Type: Lead acid or lithium battery | Max Charge Current: 60A |
| Charge Voltage Range: 40-60VDC | Overcharge Protection: Alarm and turn off charging after 1 minute |
| PV Charging Mode |   |
| Max Input Power: 5000W | PV Charging Current Range:0-80A(can be set) |
| Max PV Open Circuit Voltage: 500VDC | PV Operating Voltage Range: 60-145VDC |
| MPPT Voltage Range: 120-450VDC | Battery Voltage Range: 40-60VDC |
| Max Output Power: 5000W | Charging Short Circuit Protection: Blown fuse |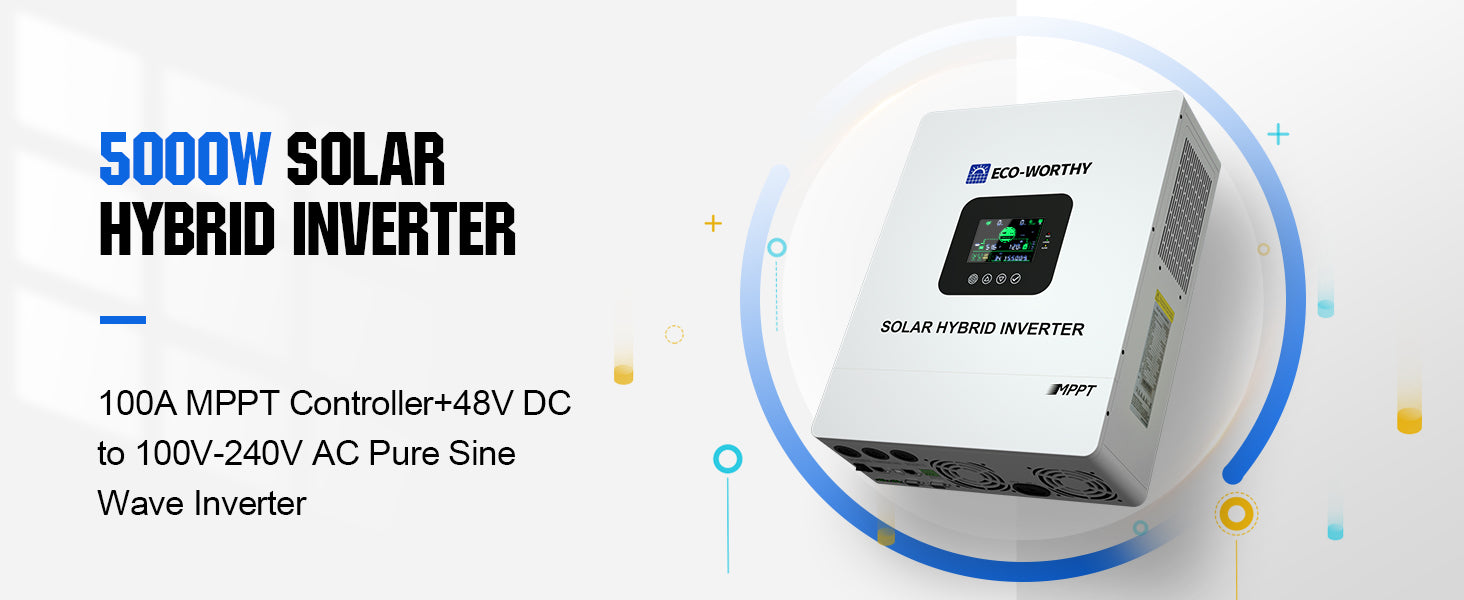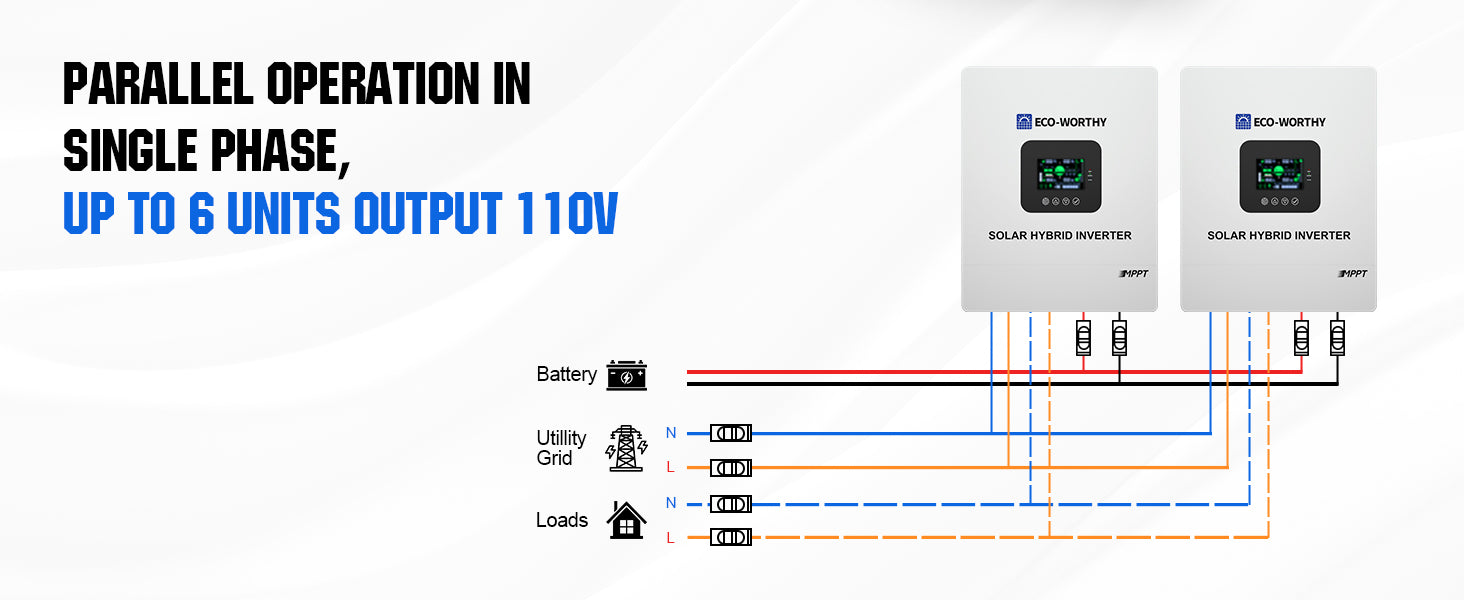 This Product does not include Tax and shipping costs. International shipping is subject to regulations and Import Taxation of Country of destination.
AMRtechnologies Inc. Solar & Electrical Systems
Tel: (+506) 7037-8077 or Toll Free: 1(800) 2130227
Solar Systems in United States & Latin America