Due to global supply chain constraints lead times for shipments may be delayed. We are actively working with our suppliers to mitigate shortages and improve lead times. If you have questions, please contact your AMRtechnologiesInc. representative at
All-in-one Inverter Built in 5000W 48V Pure Sine Wave Inverter & 80A Controller for Off Grid System
SOLD OUT

Description
·Hybrid Inverter: The combination of 5000W 48V DC to 110V/120V AC pure sine wave inverter and 80A MPPT controller provides stable output for your appliances, reduce the wires in your solar power, more than 95% efficiency, maximize energy usage, and protects your battery from short circuit, overvoltage and under voltage, overload, reverse.
·Monitoring Module: Remote monitoring, users can monitor the status of the Solar system from the mobile phone or laptop anytime anywhere.
·Battery Charging: Compatible with most batteries, such as Lead-Acid, AGM, NCM, Flooded, Lithium batteries. Charge the 48v battery group with bulk and floating states(hybrid inverter can only works when 48v battery bank connected).
·UPS Function: Four charging modes to keep your battery's backup capacity, and three output modes to auto switch between mains and battery, supply your appliances without interrupotion by both battery&mains power.
·Applications: It's able to obtain electricity from 120-500V DC solar panel array, 50/60HZ generator and 110/120V AC mains. 5000W (10000VA in peak) power supply to air conditioner, coffeemaker, fridge and more. The package contains 5000W all-in-one solar hybrid inverter + WiFi modules. ECO-WORTHY All-in-one Inverter Built in 5000W 48V Pure Sine Wave Power Inverter & 80A MPPT Controller is a new hybrid solar energy storage inverter control all-in-one machine integrating solar energy storage and commercial power charging energy storage and AC sine wave output. It adopts DSP control and has advanced response algorithms and high reliability through advanced control algorithms. And high industrialization standards. There are only four charging modes: solar power, city power priority, solar power priority, city power and solar power. Three output modes: Solar power priority mode, Grid power priority mode, Inverter priority mode, are available to meet different application needs.
 Specifications
| | |
| --- | --- |
| AC Input Mode |   |
| Rated Input Voltage: 110/120VAC | Input Voltage Range: 90V-140VAC |
| Frequency: 50Hz/60Hz(auto detect) | Overload/Short Circuit Protection: Circuit breaker |
| Efficiency: >95% | AC Reverse Protection: Available |
| Max Bypass Overload Current: 40A |   |
| Invert Mode |   |
| Output Voltage Waveform: Pure Sine Wave | Rated Output Power: 5000W |
| Rated Output Voltage: 120VAC | Peak Power: 10000W |
| Bypass Breaker: 40A | Rated Battery Input Voltage: 48V |
| Min Starting Voltage: 44V | Power Saving Mode: Load ≤25W |
| AC Charging Mode |   |
| Battery Type: Lead acid or lithium battery | Max Charge Current: 60A |
| Charge Voltage Range: 40-60VDC | Overcharge Protection: Alarm and turn off charging after 1 minute |
| PV Charging Mode |   |
| Max Input Power: 5000W | PV Charging Current Range:0-80A(can be set) |
| Max PV Open Circuit Voltage: 500VDC | PV Operating Voltage Range: 60-145VDC |
| MPPT Voltage Range: 120-450VDC | Battery Voltage Range: 40-60VDC |
| Max Output Power: 5000W | Charging Short Circuit Protection: Blown fuse |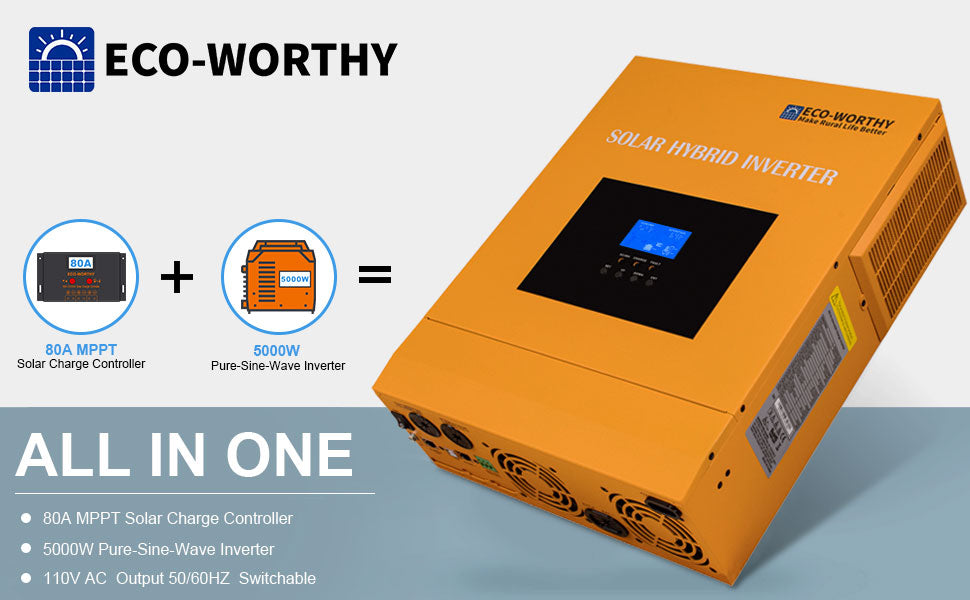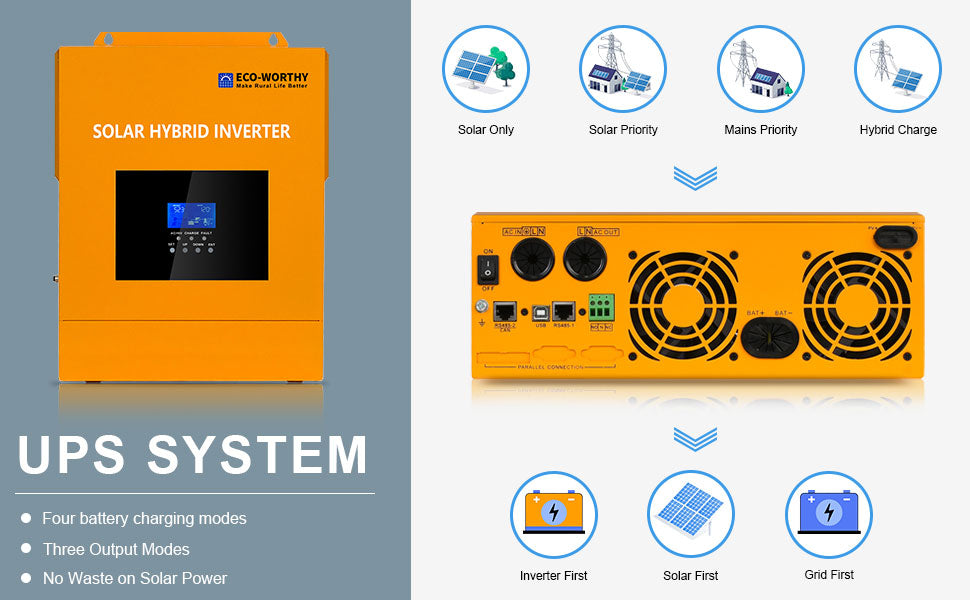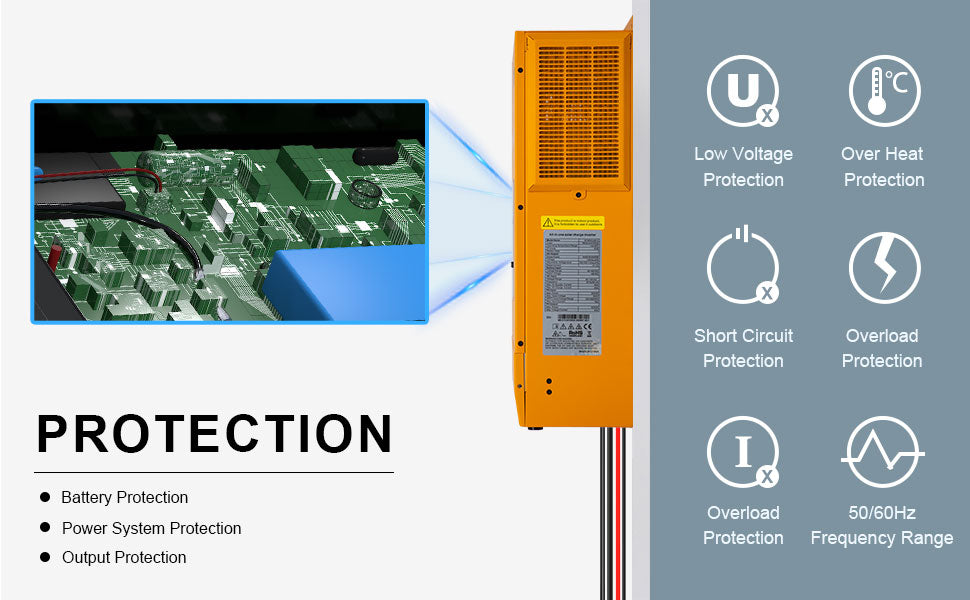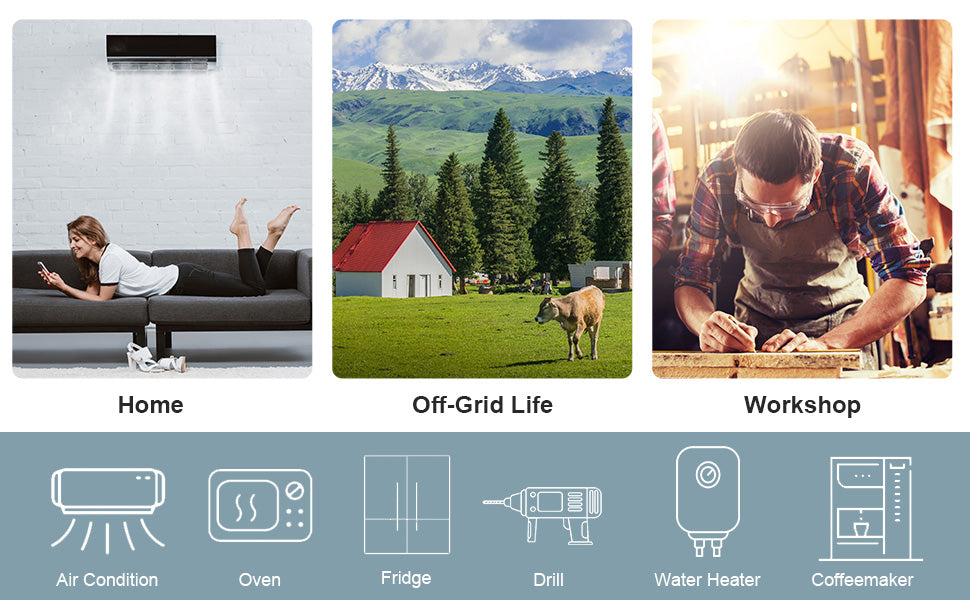 This Product does not include Tax and shipping costs. International shipping is subject to regulations and Import Taxation of Country of destination.
AMRtechnologies Inc. Solar & Electrical Systems
Tel: (+506) 7037-8077 or Toll Free: 1(800) 2130227
Solar Systems in United States & Latin America
www.AMRtechsolar.com