Due to global supply chain constraints lead times for shipments may be delayed. We are actively working with our suppliers to mitigate shortages and improve lead times. If you have questions, please contact your AMRtechnologiesInc. representative at 1-800-213-0227 or submit your question AMRtechsolar@gmail.com
Eco-Worthy-1100W Off Grid Pure Sine Wave Inverter 12V to 110V
SOLD OUT
All-in-one: A combination of a 600W 12V Pure Sine Wave Inverter and a 30A PWM Solar Charge Controller. No need to worry about your system taking up too much of your space. It's perfect to use in RV, house, farm and other off-grid system.
·Easy Wiring: This hybrid inverter was designed to optimize off-grid systems. It takes only 3 steps to setup. With clear installation instruction, even a starter can use it easily.
·Real-time Status Display: The LCD display screen shows monitor photovoltaic input, AC output, battery level and load level, allowing you to monitor and adjust your system's working status.
·Multi-protections: One machine to protect the whole system. Built-in PWM controller and inverter protect your system from PV adverse current, PV short circuit, Overheat and Overload.
ECO-WORTHY 600W 12V ALL-IN-ONE hybrid inverter combines a 600W 12V inverter and a 30A controller. With a one-button-control LCD display screen, making it easy for you to monitor and adjust your system. It's a good choice for RV, house, workshop and other off-grid system.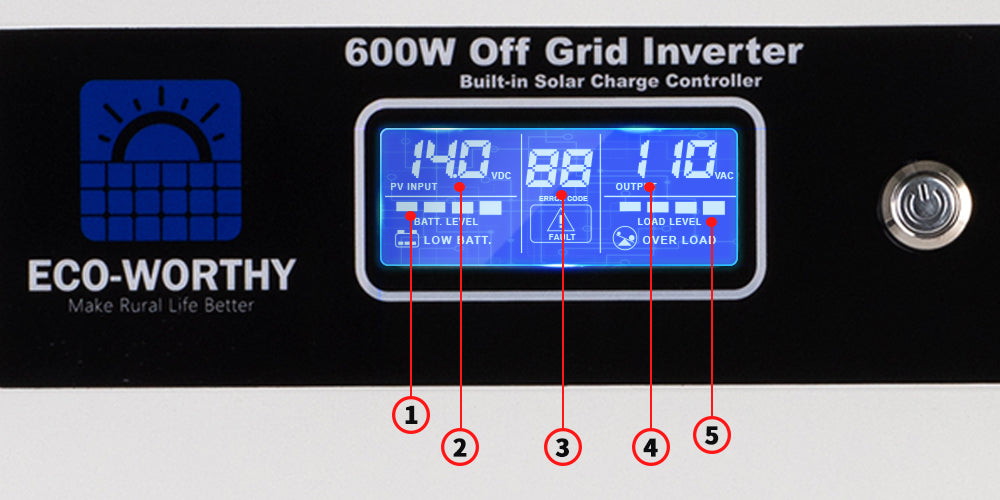 This Product does not include Tax and shipping costs. International shipping is subject to regulations and Import Taxation of Country of destination.
AMRtechnologies Inc. Solar & Electrical Systems
Tel: (+506) 7037-8077 or Toll Free: 1(800) 2130227
Solar Systems in United States & Latin America
www.AMRtechsolar.com