Due to global supply chain constraints lead times for shipments may be delayed. We are actively working with our suppliers to mitigate shortages and improve lead times. If you have questions, please contact your AMRtechnologiesInc. representative at
 DISCONTINUED - No Longer Available
SunEarth Collector, Empire EC/EPC32

 SunEarth Inc. Empire EC/EPC32 solar collector panel for domestic hot water applications featuring all copper absorber with black chrome surface. Size is 4' X 8', 32 square feet. Black anodized extruded aluminum frame with low iron tempered glass. 10 year warranty. This item is especially suitable for areas with severe winter climate or for use in space or radiant heating.
SunEarth Empire Flat Plate 4 x 8 Collector
Solar Collectors—or panels—gather energy radiated by the sun and convert it into useful heat in the form of hot water. Collectors work alongside your conventional water heater to ensure year round hot water.
The Empire Collectors, manufactured by SunEarth, are flat plate type. SunEarth designs and builds solar components that survive the world's most challenging climates and environmental conditions. Empire collectors are manufactured for a thirty-year design life, they require little or no maintenance and are backed by a solid ten year warranty.
Function:
 Supplies 70-100% water heating needs

Benefits: 
Saves you money - Reduces your monthly utility costs
Saves the environment - Reduces fossil fuel consumption

Adds value to your home - Creates equity in your home
Product Applications:

Solar Domestic Hot Water Heater System

Designed for all climates

Project feasible for handy-person using basic hand tools

System collectors designed to mount on roof

Installs on all roof types: shingle, wood shake, metal and title
Product Features:

Low iron tempered glass

Low-binder fiberglass insulation

Rigid foam insulation

Stainless steel fasteners

Extruded anodized aluminum casing

Aluminum backsheet

Vent plugs

Copper absorber plate

Flush Mounting or Tilt Mount hardware.
Product Warranty:
• 10 Year Manufacturer Warranty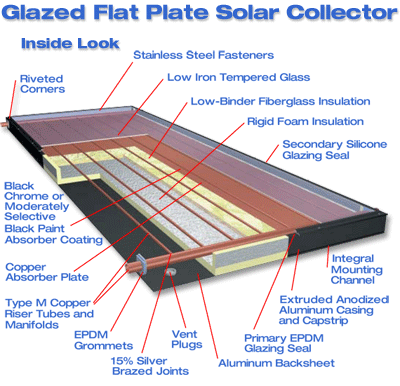 How It Works:
Flat plate collectors capture solar energy by employing the green house effect. The glass covering permits up to 90% of the visible sunlight to enter the collector. When the light passes through the glass its frequency is changed slightly to a lower energy level. When the light strikes the absorbing surface of the flat plate inside, the light is absorbed as heat. The combination of the glass frequency change and the solar absorbing surface of the plate capture the maximum amount of energy. As the absorber plate heats up it begins to radiate energy as infrared (IR) or heat radiation. Glass is essentially opaque to IR wavelengths so the heat is trapped increasing the temperature. 

Product Specifications:
| | |
| --- | --- |
| Model | EC/EP32 |
| Width (inches) | 48-1/8 |
| Length (inches) | 98-1/4 |
| Depth (inches) | 3-1/4 |
| Gross Area (square feet) | 32.79 |
| Net Aperture (square feet) | 29.81 |
| Dry Weight (lbs.) | 106 |
| Fluid Capacity (US gal.) | 1.00 |
| Design Flow (GPM) | .83 |
| AP at Design (psig) | .018 |
| Max Flow (GPM) | 12 |
| Max Pressure (psig) | 160 |
| Std. Header Width (inches) | 51-3/8 |
| Std. Header Diameter (inches nominal) | 1 |
| Header Center to Center (inches) | 93-5/8 |
 Technical Specifications:
General:

Certified by the Solar Rating & Certification Corp.

Tested in conformance with ASHRAE 93-86 SRCC 100-81

Glazed liquid flat plate type

Extruded anodized aluminum casing

Dark bronze finish

Notched framewalls for ease of plate removal

Stainless steel fasteners

1" vent plugs on each corner to minimize condensation
Glazing:
1/8 inch low iron tempered glass with a minimum transmissivity of 89% Thermally isolated from the casing by a continuous EPDM gasketContinuous secondary silicone seal between the glass and casing capstrip to minimize moisture from entering the casing.

Insulation:
• Foil-faced polyisocyanurate foam sheathing board of a minimum 1 inch
• thickness, siliconed in place to the aluminum backsheet, covered by
• low-binder fiberglass of a minimum 1 inch thickness, providing thermal
• isolation of the foam from the absorber plate.
• Total thermal resistance minimum of R-12.
• Sides and ends of the collector are insulated with a minimum of 1 inch
• foil-faced polyisocyanurate foam sheathing board.

Absorber Plate and Piping:
• Roll-formed copper plate of no less than .008 inch thickness. Risers are
• a minimum of 1/2 inch O.D.
• Type M copper tubing on no more than 4 1/2 inch centers continuously
• soldered to the plate utilizing a non-corrosive solder paste with a
• melting point of 460oF.
• The risers brazed to 1 1/8 inch O. D. Type M (1 5/8 inch O.D. on
• EC/EP40-1.5) copper manifolds utilizing a copper phosphorous brazing
• alloy with no less than 15 percent silver content, and conforming to the
• American Welding Society's BCuP-5 classification.
• EPDM grommets isolate the manifold from the aluminum casing.
• The absorber plate designed for 160 psig maximum operating pressure.

Absorber Coating and Performance Curve:
• Moderately Selective Black Paint with a minimum absorptivity of 94
• percent and a maximum emissivity of 56 percent.
• The instantaneous efficiency of the collector has a minimum Y-intercept
• of 0.682 and a slope of no less than -0.7995 (BTU/ft2–hr)/F.

Due to SunEarth's policy of continuous product improvement, specifications are subject to change without notice.

Product Manufacturer: SunEarth, Inc.

A complete typical solar domestic water heating system components and
layout is shown below.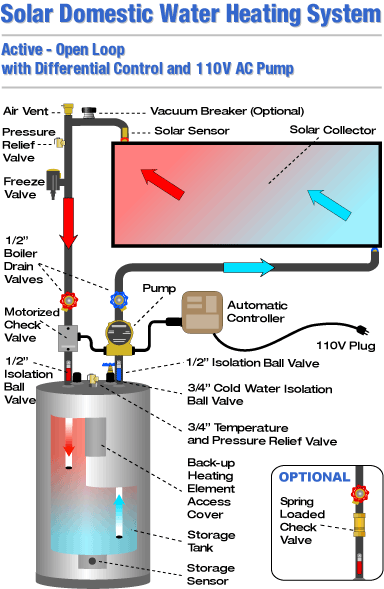 12 SunEarth TRB-32 Collectors at the Ithaca Ecovillage, Ithaca, NY
SunEarth Inc., established in California in 1978, manufactures industry standard solar water heating collectors and systems for residential and commercial applications.
Each SunEarth product is carefully engineered for a world market that demands simple, durable, and reliable solar water heating components and integrated systems.
SunEarth solar collectors are manufactured for a thirty-year design life. SunEarth products require little or no maintenance and are backed by a ten year warranty.
SunEarth Inc. is the largest manufacturer of solar thermal flat plate collectors in the United States. They also manufacture the highest performing collector, the ThermoRay.
Empire & ThermoRay Solar Collectors
We at Sun Source are proud to carry the SunEarth Empire & ThermoRay series of flat plate collectors. These products provide 3 different levels of efficiency in a sleek, low profile black anodized aluminum frame. All collectors are glazed with low-e tempered glass, and insulated with both insulation board and fiberglass to provide the highest performance levels in the industry.
EP Series (Selective Paint)

 

- The most cost effective collector. All copper absorber and copper riser tubes, coated with a low-e black paint. This collector is very popular in the south and mid-Atlantic, and it's low price point provides a great ROI to the customer.
EC Series (Black Chrome)

 

- The most popular choice, and long time highest efficiency. All copper absorber and copper risers, coated with black chrome. This collector is very effective in Northern climates to provide winter performance, and is priced very aggressively.
TRB Series (Blue Sputter)

 

- The "ThermoRay" is the highest efficiency collector on the market. Aluminum absorber plate and copper risers. This collector provides extremely high performance and is the goto choice for high demand systems in Northern climates.
This Product does not include Tax and shipping costs. International shipping is subject to regulations and Import Taxation of Country of destination.
AMRtechnologies Inc. Solar & Electrical Systems
Tel: (+506) 7037-8077 or Toll Free: 1(800) 2130227
Solar Systems in United States & Latin America
www.AMRtechsolar.com