Due to global supply chain constraints lead times for shipments may be delayed. We are actively working with our suppliers to mitigate shortages and improve lead times. If you have questions, please contact your AMRtechnologiesInc. representative at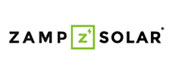 Zamp Solar-Legacy Black 190 Watt Solar Panel Cinder 40 Deluxe Kit
PART NUMBER: KIT1025
The Zamp Solar Legacy Black 190 Watt solar panel and Cinder 40 charge controller Kit is the gateway to going big! Step into the world of serious panel configurations and charging potential on your overland rig or RV. This entry level complete kit is designed to be expanded up to three additional 190 Watt panels. 
This Kit Includes:
Zamp Solar Legacy Black 190 Watt Solar Panel:

Weight: 24.25 lbs
Panel Dimensions: 58.3" x 26.4" x 1.5"
Wattage Output: 190-Watt Power Output
Amp Output: 9.5 amps
Warranty: 25-Year output
Mounting Solution:
Set of 4 Universal Reversible Mounting Feet Kit
Solar Panel Wiring:
10' ATP to ATP Wiring Extension
CINDER ™ 40 Amp Digital Charge Controller:
12 Volt Max Solar Input of 800W / 24 Volt Max Solar Input of 1,600W
Input Amps: 40
RV-C Enabled: Yes
Lithium Charging Profile: Yes
Bluetooth: Built-In
Smartphone Apps: FREE iPhone iOS and Android downloadable app
Pulsetech: Patented Desulfation Prolong Lead-Acid Battery Life By 3X

Mounting Option: Surface Mount

2-Port ATP Solar Roof Cap:
Plug any Zamp Solar panel directly into the cap
Easily expandable
Comes with mounting hardware and a gasket
Complete Wiring Harness:
Pre-terminated for fast installation
15ft Roof Cap to Charge Controller wire
10ft Charge Controller to battery wire (fused)
Legacy Black 190 Watt Solar Panel:
Continuing the Legacy. Our tried and true, longest running product line – now upgraded for the ultimate performance at a price everyone can get behind.
New features include an Anodized Black Legacy Series Frame, Low-Profile Junction Box for increased shade resistance, and a black solar back sheet to help absorb as much renewable solar energy as possible.
Now, all Legacy Series Solar panels feature Plug & Play ATP Series Quick Connections to make integration and resistance to the elements better than ever.
All Zamp Solar Panels are backed by a 25 Year output warranty, and Handcrafted in the USA. Installation is a breeze with our 360 degree Omni-Rail Quick Mounting System,
Impact and weather resistant construction means you can go further and stay out longer. With a variety of sizes, there is a Legacy Series Panel or Configuration of Panels that works on your set up.

Perfectly designed for all mobile rooftop solar applications. Our Legacy Black Series 190-Watt panels are engineered to be compatible with all 12, 24, or 48 volt battery system. Experience a new spin on our traditional panel design with increased efficiency providing more output within a smaller footprint. This Made in the USA panel also features a sleek anodized black frame, bypass diodes for shade resistance, waterproof quick lock electrical connections and our 360 degree Omni-rail mounting system.
Solar Panel Features:
Omni-Rail Quick Mounting System - Take the stress out of installation. Our quick mount system utilizes hardware channels engineered into extruded aluminum frames — these channels house T-nuts, which you can reposition to match any desired location along the rail. Once in place, our mounting feet can be attached using T-Nut and Lock Washer. 
Stormproof - Every component on our panels are built to withstand whatever mother nature throws your way. Rain, Snow, Sleet, Hail — you can trust that Zamp Solar Panels will stand up to the elements.
AR Coated Tempered Glass - The glass we use to seal our solar cells offers high light transmittance and low reflectivity to ensure you get the most of what the sun provides on any given day. 
POE Encapsulate - Protecting the solar cells directly affects the longevity of our products. We use POE Encapsulate, which offers improved thermo-mechanical properties, UV protection, corrosion prevention, Improved volume, heat, and humidity resistance, and higher volume resistivity.
Black Back sheet - Our black back sheets are designed to absorb the most solar energy while also significantly increasing the lifespan of the solar panel.
Reinforced Corners - Living comfortably outdoors means dealing with unforeseen bumps in the road. Thankfully, our panels are engineered to withstand rugged terrain. These corner protectors keep your frame safe and secure around the panel components.
Ultra-Low Profile Junction Box - PCB - Based Junction Box for higher efficiency & improved shade resistance.
ATP Quick Connect Plugs - Plug & Play. It's that simple. These ATP connections provide ample energy flow while protecting connections from the elements. In addition, all ATP plugs are weatherproof, and IP67 rated, preventing water damage even in inclement weather.
Solar Panel Specs:

Weight: 24.25 lbs
Panel Dimensions: 58.3" x 26.4" x 1.5"
Wattage Output: 190-Watt Power Output
Amp Output: 9.5 amps
Warranty: 25-Year output
Cinder ™  40 Charge Controller:
The Zamp Solar Cinder™ 40-amp charge controller can regulate up to 800 watts at 12 volts or 1,600 watts at 24 volts and is compatible with LiFePO4/Li-Ion, Lithium-Titanate (LTO), AGM, Conventional lead-acid (wet), and calcium batteries. Provide your batteries and solar panels with built-in protection. Auto-detect 12-volt and 24-volt battery configurations without touching the unit.

The newly designed CINDER™ line of charge controllers will come standard with the ability to communicate utilizing the RV-C data protocol. The RV-C standard is the latest way for your RV appliances to shares information regarding energy generation or consumption. This will allow all of the smart devices on the network to shift resources efficiently.
Charge Controller Features:
Protects and Regulates: All our charge controllers use pulse width modulation (PWM) and five stages of charging to regulate the flow the electricity to your battery. This protects your battery from overcharging, expands your battery's lifespan, and keeps your panel safe from back-flow electrical currents, among many other protections and benefits.
Real-Time Monitor: Bright LED indicators allow visual monitoring of your battery conditions on the face of the controller. Use the free Apple or Android app to monitor charging current, charging capacity (amps per hour), select your battery type, and system faults.
Flexible and Customizable: Our Cinder 40-amp charge controller is weather resistant and can be surface-mounted on your wall. 
This Product does not include Tax and shipping costs. International shipping is subject to regulations and Import Taxation of Country of destination.
AMRtechnologies Inc. Solar & Electrical Systems
Tel: (+506) 7037-8077 or Toll Free: 1(800) 2130227
Solar Systems in United States & Latin America
www.AMRtechsolar.com