Due to global supply chain constraints lead times for shipments may be delayed. We are actively working with our suppliers to mitigate shortages and improve lead times. If you have questions, please contact your AMRtechnologiesInc. representative at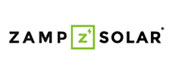 Zamp solar-AirStream OBSIDIAN® SERIES 100 Watt Solar Panel Expansion Kit
Perfect for Airstream trailers or any other curved mounting surface, our OBSIDIAN® SERIES 90-Watt long panels work with any type of 12-Volt battery. As thin as a flexible panel and lighter than a traditional panel without compromising efficiency, this American-made panel also features an ultra-aerodynamic profile and a sleek black anodized aluminum frame.
This is by far our most popular option to upgrade the factory-installed solar panel system on Airstream trailers. Utilize the existing roof cap and add more energy-generating solar panels to the system quickly and easily. 
If you are putting together a whole new system for off-grid solar, please select an integration kit to complete your setup. If your RV has a Solar-Ready roof cap or sidewall port, you may need to purchase a wire or adapter to complete your install.
This kit DOES NOT come with a base plate with threaded stud because of an incompatibility with the curved mounting surface. Due to the fact that every vehicle and application is different, these mounting feet do not include bolts or hardware to attach the mounting feet to your roof.

Kit Includes (ZSK1011)
2x 90-watt Solar Panels
2x Sets of 4 Airstream Curved Roof Mounting Feet Kit
2x 10' ATP to ATP Wiring Extensions
2x ATP to Zamp Solar SAE Adaptors
Panel Tech Specs:
Weight: 10.2 lbs
Dimensions: 59.1" tall x 14.3" wide x .67" thin
Wattage: 90-Watt Power Output
Output: Generates 5 amps
Open Circuit Voltage: 23.8 volts
Warranty: 25-Year output warranty
This Product does not include Tax and shipping costs. International shipping is subject to regulations and Import Taxation of Country of destination.
AMRtechnologies Inc. Solar & Electrical Systems
Tel: (+506) 7037-8077 or Toll Free: 1(800) 2130227
Solar Systems in United States & Latin America
www.AMRtechsolar.com