Due to global supply chain constraints lead times for shipments may be delayed. We are actively working with our suppliers to mitigate shortages and improve lead times. If you have questions, please contact your AMRtechnologiesInc. representative at
Zamp Solar-KIT 2015 170W Expandable Dual Battery Bank Solar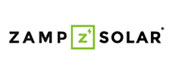 We Recommend this 170W Roof Mount Solar System
A 58.3" x 26.4" x 1.5" 170-Watt solar panel -  24.25 lbs.
If you're not sure where to start, these kits are expandable!
Ideal for smaller RVs and extended off grid freedom.
For weekend warrior RVs (1-3 days), 30-35' boondockers.
Expandable to 510-Watts for larger RVs or battery banks. See Zamp Roof Mount Expansion Kits.
Solar can be freeing. Free yourself from trip planning to find hook up after hook up and worrying about devices staying charged. Free energy that keeps paying you for years and years. Zamp's 170-Watt Solar Kit is a great place to start for any size RV. It uses a smart charge controller that won't overcharge. Perfectly safe to use on smaller capacity batteries, but has the power to recharge large battery banks. Expect to get between 35-60 amps on an average day (4-7 hours optimal sunlight).
KIT1005 Replaces ZS-US-160-30A-DX.
Warning- Do Not exceed 30 Amps! Example: Run up to THREE 170W Zamp panels. You cannot add more panels to this system with a Y-connector.
Need More Power? It's Simple!
Zamp Solar deluxe roof mount solar kits are expandable. Zamp has made it very simple to add more panels to any deluxe kit by using any deluxe expansion kit – just mount it and plug it in. Available expansion kits come in 90, 115, and 170-Watts. Any Zamp deluxe kits with a 30-amp charge controller is expandable up to 510-Watts.
Essentially a Plug-N-Play System
Zamp's Deluxe Systems are designed in a way that the hardest part of installing a kit has been done for you. All the wires have been pre-terminated with the battery connections, and charge controller connections. The only wiring you must do is to simply turn a screwdriver to hold them in place.
What's Included:
170-Watt Monocrystalline U.S. Made Solar Panel – 58.3" x 26.4" x 1.5" panel, 24.25 lbs.
Solar Panel Mounting Feet – Clamp Style Allows Removal for Servicing
30 Amp Digital Charge Controller

Digital Display Showing Amps, Volts and Accumulated Amp-Hours for the Day
LED Indicator Lights Shows Battery Level – 25, 50, 75 and 100%
Programmable for 6 Types of Batteries – LiFeP04, LTO, WET, AGM, GEL, Calcium
Back Feed Protection

3 Port Roof Cap – Easily add more POWER!
Pre-Wired Wiring Kit – With Ring Terminals and Fuses

No need to cut, splice or crimp wire – Already Done!
15' 8/2 UV Resistant Underground Rated Roof Cap to Charge Controller Wire
10' 8/2 UV Resistant Underground Rated Solar Controller to Battery Wire
Pre-Wired Fuse Between Battery and Charge Controller
American Made
Made in Bend, Oregon. Zamp Solar started manufacturing solar panels in the U.S. for use in their kits and systems in 2015. They are one of few U.S. solar panel manufactures that warranty their panels for use on mobile applications, like RVs.
Prewired for Solar Ready RVs
Zamp Solar comes pre-installed on many of the RVs being manufactured today. Solar Ready RVs come prewired with Zamp Solar ports. There are two types of ports on SRRVs, a solar sidewall port and a solar roof cap. Any RV that comes prewired with a 3-port roof cap can take advantage of simply installing a solar charge controller and a deluxe expansion kit.
This Product does not include Tax and shipping costs. International shipping is subject to regulations and Import Taxation of Country of destination.
AMRtechnologies Inc. Solar & Electrical Systems
Tel: (+506) 7037-8077 or Toll Free: 1(800) 2130227
Solar Systems in United States & Latin America
www.AMRtechsolar.com